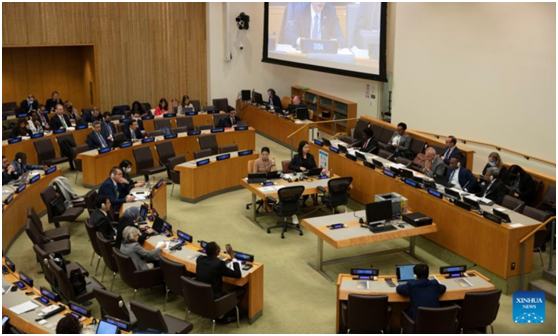 By Global Times
"No matter how the US and a handful of other Western countries package their anti-China joint statement, the malicious political intentions contained therein cannot be kept under wraps, and their machinations are doomed to failure," Dai Bing, the charge d'affaires at the Chinese Permanent Mission to the United Nations,? refuted on Monday the attacks against China by the US, Canada, and a few other countries at the Third Committee of the 77th session of the UN General Assembly.
"A minority of countries, such as Canada and the US, in their intractable bigotry, has once again misused the forum of the Third Committee by ganging up into a clique, bent on instigating political confrontations with attacks and a smear campaign against China, to which China registers its firm objection and stern rejection," Dai said.
The Chinese ambassador added that no matter how those countries hype up the stories they fabricated to keep the farcical show going, they cannot obliterate the progress of the human rights cause in China's Xinjiang region, which is a fact and the truth. "What's in store for them is nothing but self-inflicted humiliation."
It's plainly visible to all that caring about human rights in Xinjiang is just a facade, behind which lies their true intent, namely, to contain China by making and spreading lies about Xinjiang and to maintain their hegemony. Today, it's China that's in the crosshairs of their punitive flak; tomorrow, it would be some other developing countries, Dai said.
"By applying double standards on human rights, the US and some other Western countries have set the bar for hypocrisy. They have named and shamed dozens of UN Member States, but they feign ignorance of their own vile human rights records and those of their allies," noted Dai.
China looks forward to working with all peoples of the world to uphold true multilateralism, safeguard the international system with the UN at its core, help move global governance forward on a more just, sound and coherent course, advance the achievement of human rights for all and galvanize the development of a community with a shared future for all humanity, Dai said.
On behalf of 66 countries, Cuba delivered a joint statement in resolute support of China, stressing that Xinjiang, Hong Kong and Tibet related issues are China's internal affairs, and opposed politicization of human rights and double standards, or interference in China's internal affairs under the pretext of human rights.
Saudi Arabia on behalf of six Gulf states, Yemen and Libya, Venezuela on behalf of 19 member states of the Group of Friends in Defense of the UN Charter, and many other countries in their national statements spoke in support of China, forming a strong momentum in support of China.
The Third Committee of the UN General Assembly is the committee that discusses human rights and social development issues. Since 2019, the US has gathered a group of countries for the fourth time to smear China on human rights issues, which were firmly opposed by the vast majority of countries and all ended in failure.