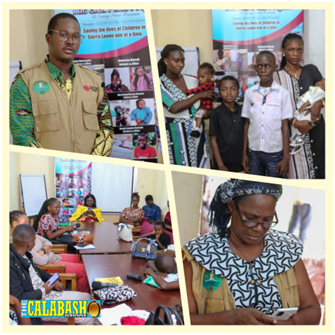 By Mary Kabay
The Sick Pikin Project convened a Press Conference at the Caritas National Office on the 26th August 2022 with the objective of updating the general public about four children it has facilitated for their travelling to India to get specialized medical treatment.
Alice M. Johnson, a staff of The Sick Pikin Project, intimated the audience that four (4) children, alongside their parents,  will be traveling to India on the 28th August 2022 for medical treatment adding that three of them are suffering from heart-related complications and the other with an intestine problem.
She also took the audience through the successes and challenges they have being facing since inception of the project.
Founder and Lead Campaigner of The Sick Pikin Project, Ishmael Alfred Charles, also gave an update of the project since it commenced.
He informed how the Project was established exclusively for charitable and humanitarian purpose, helping poor and sick children by raising money through campaigns and street begging to help them go through needed surgeries in order to make them healthy and strong again.
"The main aim is to cater for sick children within the ages from 0-16 years whose parents are challenged financially and cannot afford to pay the medical bills for their children," he disclosed maintaining that they deal with children that are having severe medical conditions that cannot be treated here in Sierra Leone and few minor conditions that are treated here in Sierra Leone but from extremely poor families.
He continued that since the inception of the project, it has helped over one hundred and fourteen (114) children intimating how majority of the children are sent to India, and few to Spain and Italy for different surgeries that are delicate highlighting that for those that are not delicate, their surgeries are done in Senegal and here in Sierra Leone.
He continued to explain that the project is a not for profit that has 99% direct cost and that its funds generated from donors, street begging campaigns, monthly donations, the Government of Sierra Leone through the Ministry of Health and Sanitation and its donation boxes that are placed at banks and supermarkets in Freetown.
According to him they deal with various health issues such as Congenital Heart Diseases, Hydrocephalus, imperforated anus, Hodgkin Lymphedema etc.
Dilating on some of the challenges faced he said they have lost recently 2 of their beneficiaries of which they regret to announce because it is not their joy to lose any one.
Ishmael Alfred Charles informed those present that they will be sending four children to New Delhi in India for treatment. He named Mohamed Aloha Tan, a child with two holes in the heart, David Patrick Henry having been sick for 9 years suffering from dropping urine, Nyakeh Charley with a hole in the heart and Baby Yema with three holes in the heart as the children that will depart for India on the 28th August,2022.
The parents of the beneficiaries thanked the Almighty for giving their children a second chance to live through The Sick Pikin project and the Ministry of Health and Sanitation through the Government of Sierra Leone for sponsoring their children to live happily.
After explaining what they have being through since birth of their children they expressed strong beliefs that God will surely see them through the journey they are about to embark on and provide healing for their children.