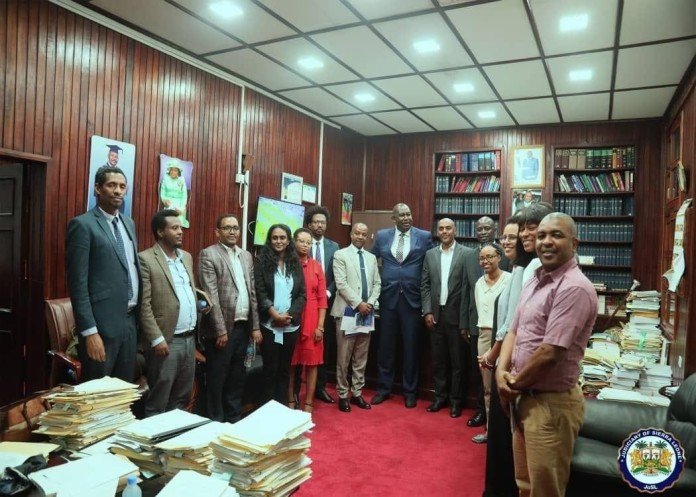 By Amin Kef (Ranger)
The Chief Justice, Justice Desmond Babatunde Edwards, has emphasized the fundamental importance of judicial independence and access to justice in the context of transitional justice during a meeting with a delegation from the Ethiopian Ministry of Justice on the 14th August 2023.
Speaking from the esteemed Chief Justice's Conference Room in the Main Law Courts Building, Chief Justice Edwards highlighted that access to justice, along with judicial independence and integrity, play a pivotal role in the process of transitional justice. He stressed that these principles instil public confidence in the functions and operations of the justice system.
Reflecting on the structure of the Sierra Leonean courts, Chief Justice Edwards noted that they are accessible to those with grievances. He emphasized that the Judges' role primarily involves assessing the merits of cases presented by aggrieved parties. He further underlined that the 1991 Constitution, a residual outcome of the 11-year civil war, stands as the supreme law of the land and is applied across all courts within the nation.
Chief Justice Edwards also expounded on the constitutional provisions delineating the separation and independence of the three branches of Government: the Executive, the Legislature, and the Judiciary. He acknowledged the interdependence of these branches in various capacities but assured that the Judiciary's integrity remains intact when it comes to the adjudication of cases. He expressed confidence in the commitment of the Judiciary to act in the best interests of the people.
In his capacity as the Head of the Judicial and Legal Service Commission, Chief Justice Edwards explained that the Commission recommends qualified individuals for judgeship appointments to the President, who then obtains the approval of Parliament for such appointments. He underlined that ensuring the efficacy of transitional justice requires legal backing for judges' appointment, tenure, salary, and gratuity. Sierra Leone's Judiciary, he added, is firmly founded on core values such as independence, impartiality, equality, accountability, and integrity.
Chief Justice Edwards also drew attention to the instrumental roles played by the Truth and Reconciliation Commission and the establishment of the Special Court for Sierra Leone in the nation's pursuit of transitional justice. These initiatives have yielded invaluable lessons for Sierra Leone's transitional journey.
Representing the delegation from the Transitional Justice Working Group of Experts (TJWGE), Tadesse Kasse, the delegation's Chairman, emphasized that their multidisciplinary team, comprising independent experts from various walks of life, was appointed by the Ethiopian Minister of Justice. The delegation was entrusted with assessing successful transitional experiences of regional and sub-regional countries. The goal is to synthesize a tailored transitional policy that aligns with the unique needs of Ethiopia. Once finalized, the policy will be presented to the Ethiopian Government for appropriate action.
The discussions underscored the pivotal role of an independent Judiciary and equitable access to justice in the intricate process of transitional justice. Sierra Leone's experiences and principles offer valuable insights as Ethiopia seeks to develop its own effective transitional policy.