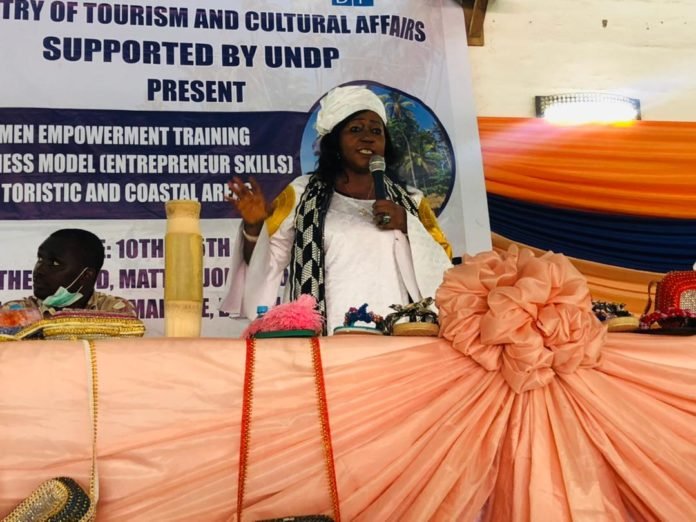 By Foday Moriba Conteh
With support from the United Nations Development Programme (UNDP), the Ministry of Tourism and Cultural Affairs has on the 25th June 2021 trained women in the Lumley and Aberdeen communities on women empowerment and business model skills for touristic and coastal areas at the Family Kingdom Resort, Aberdeen in Freetown.
It could be recalled that the Ministry, with support from UNDP, trained women in Bonthe Island, Mattru Jong, Tobanda, Sulima, Kabala and Kamakwie on women empowerment and business model (entrepreneurship skills)
The Minister of Tourism and Cultural Affairs, Dr. Memunatu Pratt, speaking to participants, thanked UNDP and the Sierra Leone Government for giving support to such an important training to women in Sierra Leone.
She added that the training is geared towards bringing women together and train them to be entrepreneurs in the tourism sector and to be self-dependent also noting that women are key to development in any country, hence they are empowering them to showcase the Tourism sector of Sierra Leone.
The Tourism Minister added that with the support of UNDP, they were able to train 400 women in coastal areas and that the total number of beneficiaries from the training is 800.
She revealed that they have submitted a proposal to the World Bank to source funds to support women in Tourism furthering that, as a Ministry they want such training to be a project wherein every year they will reach a certain number of women and train them on business model skills and at the end, they will have trade fares and exhibitions where every woman will come and showcase her skills.
Dr Pratt expressed determination and commitment to supporting women in the country through business model skills training and other developmental aspects. She pleaded to the women to help protect climate change by not cutting trees and mining sand from the beaches, noting that such will destroy the touristic nature of the beaches and forests.
The Lead Trainer, Isata Kaifa, challenged the women to follow the footsteps of women in Kamakwie and other parts of the country that have gone through successful training.
She said once the women are trained, they will be able to use those skills to be self-reliant and add value to themselves. She thanked the Minister and UNDP for providing such an important training for women which she said will prevent them from taking to the streets.