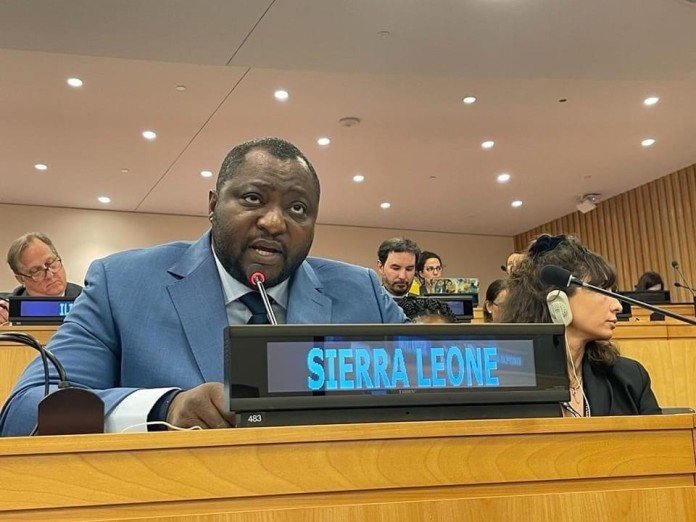 Minister of Trade and Industry, Dr. Edward Hinga Sandy, informed participants at the United Nations Commission on International Trade Law Working Group III: Investor-State Dispute Settlement Reform 45th session, that the Government of Sierra Leone is committed to creating the enabling environment to attract foreign direct investment and to protect investors' rights.
The Minister also acknowledged the need for States to have the right to regulate and be protected to achieve the goals and principles of sustainable development.
"Sierra Leone welcomes the work of Working Group III, particularly on the structural reform option and the proposed establishment of a Multilateral Investment Court to address the current ISDS concerns. We also recognize the value of the significant work to improve the system through bilateral tools and incremental reform," the Minister said.
Dr. Sandy also took the opportunity to commend the important efforts of the team at the Secretariat in increasing the profile of the work of the Commission and its Working Groups, particularly on investor-State dispute settlement reform. He made reference to August 2019, when Sierra Leone experienced its first investor-State arbitration dispute, adding that although the claim was based on rights held under a large-scale licence agreement to mine iron ore in Sierra Leone, it has been settled.
"It became apparent to the Government of Sierra Leone that the identified and considered concerns regarding ISDS, including cost, were real and impact paralyzing" he said.
The Minister said that the value of the claim was hanging over the Government like the sword of Damocles, adding that the cost of the arbitration, including fees for representation, adversely impacted Government's decisions to assert a right or defence over the usual duration of ISDS cases, particularly for a least developed country.
The Minister went further to speak about the vital resources that are needed to be spent on development programmes to fulfill the development aspiration of the people, citing the flagship "Free Quality Education Programme", to which Government has devoted over 21% of the national budget in past years, in commitment to Human Capital Development.
In his conclusion, the Minister stated that finalizing the Code of Conduct will be a concrete demonstration of the laudable work the Working Group can get done, working together on its important mandate on the possible reform of ISDS.