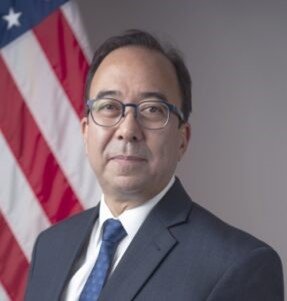 By Amin Kef (Ranger)
During his inaugural visit to Sierra Leone, U.S. Deputy Assistant Secretary for West Africa (DAS), Michael Heath, emphasized the need for an inclusive national dialogue and democratic reforms in order to strengthen democracy in the country. He expressed that view in a meeting with the Vice President, Dr. Mohamed Juldeh Jalloh.
Deputy Assistant Secretary Heath stated that the Millennium Challenge Corporation (MCC) Compact, a bilateral United States foreign aid initiative, could only progress with the implementation of significant democratic and electoral reforms. He further assured Vice President Jalloh of the U.S.'s support for the Economic Community of West African States (ECOWAS) in maintaining constitutional order in Niger.
Heath stressed that stability in the Sahel region is contingent on the restoration of credible, democratic governance across the region.
He also met with Sierra Leone's press corps, emphasizing the crucial role of free and professional media in a democracy further underscoring the importance of free speech, freedom of the press, and the right to peaceful assembly in strengthening Sierra Leone's democracy.
In a meeting with Finance Minister Sheku Bangura, Heath highlighted the U.S.'s commitment to private-sector-led, broad-based economic growth. He suggested that sustained economic reforms could attract increased foreign direct investment, thereby improving the lives of all Sierra Leoneans.
Heath also expressed his desire for a close partnership with Sierra Leone on the UN Security Council during a meeting with the Acting Foreign Minister. He emphasized the importance of upholding international law, defending sovereignty and territorial integrity, and working together to end Russia's war of aggression against Ukraine.
In his meeting with All People's Congress (APC) Leader Dr. Samura Kamara, Heath stressed the importance of constructive opposition participation in national dialogue and national institutions. He urged that the revitalization of democracy in Sierra Leone should be prioritized over partisan concerns.