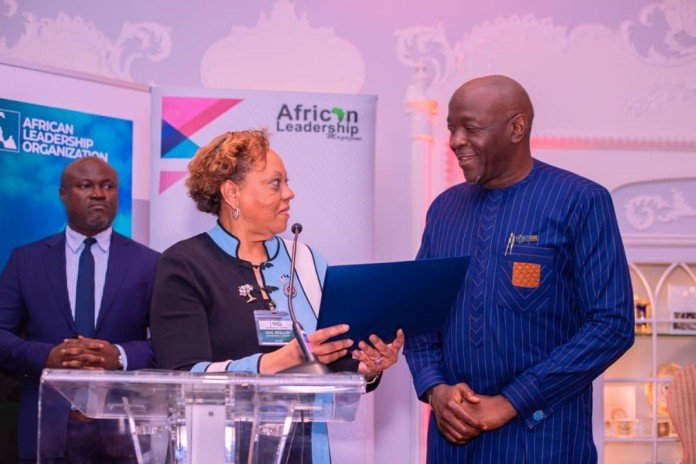 In addition to bagging numerous accolades in the country for his exemplary leadership, good rapport and interactive abilities as well as for injecting  and rolling out of sound, professional and result-oriented initiatives culminating into fruitful outcomes, this time round
United States Congressmen from South Carolina has for the first time in history honoured a Sierra Leonean banker – Dr Walton Ekundayoh Gilpin, Managing Director for Rokel Commercial Bank for his "contribution in economic development and the banking industry."
Gilpin, who is in the UK to attend the 13th African Business Leadership Summit organized by the African Leadership Magazine, was presented with the award by Senator Rosaly D Henderson-Meryers from South Carolina whilst the Finance Minister from Mauritius, Dr. Renganaden Padayachy,  who is also attending the summit, presented him with the plague.
After receiving the Award, Dr Walton Gilpin said he is extremely pleased to have been honoured by the United States House of Representatives otherwise called the House of Congress for his contributions to economic development and the banking industry in Sierra Leone. He extended thanks to the African Leadership Magazine for a wonderful Business Leaders Summit further maintaining that it is for his hardworking team at RCbank , Sierra Leone and gave God the Glory.
Gilpin, a global finance and economic development expert has worked in several countries in the Caribbean, United States, South Pacific, Africa and Europe.  He is better known in Sierra Leone as the man who changed the story of a bank that was notorious for loss making and on the brink of collapse. His radical but progressive reforms impacted not only the Rokel Commercial Bank but have infused a lot of professionalism among one of Sierra Leone's most profitable commercial banks.
An advocate of financial inclusion and financial literacy, Gilpin's reforms have expeditiously brought positive growth indices with consistent profitability in the last five years. For instance in 2020, the bank paid a whopping 17 Billion Leones dividend to its majority shareholder, the Government of Sierra Leone. That was possible after the bank had recorded a pre-tax profit of Le88.7Billion.
At the business summit, Gilpin was among a galaxy of very prominent panelists for a CEOs Round Table plenary session on "Re-Imagining Africa's Private Sector as Economic Growth Enablers on the Continent" moderated by Peter Burdin, former Head of the BBC.
The summit, among other things, seeks to bring together Africa's business leaders, policy makers, researchers to address emerging issues and challenges confronting the continent's socio-economic and environmental sustainability.
In an engagement, Dr Walton Ekundayoh Gilpin said the recognition will continue to bolster his confidence in the economic future of Sierra Leone and said he is delightfully grateful to God and his team at Rokel Commercial Bank for achieving all the important milestones for the bank.
"Ideally, whilst we can count on the progress we have made, it is also time to brace ourselves for more work, more commitment and more innovation as this is critical to anything we do to help contribute to Sierra Leone's growth trajectory…"