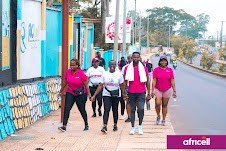 By Abubakarr Harding
Africell-Sierra Leone conducted a Health and f Fitness Walk in which members of staff from various parts of the country actively participated in commencing at the company's headquarter at Wilberforce, going through designated areas and ended at Leicester Peak on Saturday the 20th May ,2023.
Addressing participants at the finishing point, the Chief Corporate Affairs Manager of Africell ,Jose Abass Bangura ,said every employer knows that the most important assets of any company are the employees maintaining that the ultimate goal employers want from employees is to reach maximum productivity levels and in a quest to accomplish such, supporting fitness is one of the most beneficial choices any employer can make to encourage their workers to reach their full potentials.
Joe Abass Bangura furthered that as a company they decided to organize the Africell health and fitness walk to improve employees' health and wellness, reduce healthcare costs, and increase engagement and job satisfaction.
He said during the exercise, Management of Africell provided some first aid treatments as well as vehicles for those whom might get hurt during the walk but, however, thanked God there was no casualty during the process.
Joe Abass Bangura continued that the initiative will help employees not to get sick easily as when an employee uses less sick days, they contribute more to overall productivity and reduce the hassle of trying to find replacements at the last minute.
He added that employees who are fit creates a sense of confidence, which allows them to set higher goals and to always strive for excellence further stating that encouraging exercise is a good way of promoting teamwork which as well encourages personal growth, increases job satisfaction and reduces stress during and after work.
The Media Manager of Africell, John Konteh, in his statement  said as a company they decided to embark on lots of sporting activities like the health and fitness walk, the LELEMU inter-departmental football tournament, the Sports meet and the Africell Freetown Marathon as a way to keep their workers fit physically and psychologically which help reduces employees' stress levels as a good exercise has the phenomenal ability to lessen the amount of stress felt from physical and emotional tensions in life.
John Konteh furthered that it is obvious that employees who are not stressed are more focused as they contribute to a much higher levels of productivity.
Similarly, John Konteh said that involving in sport helps you stay in shape, teaches you how to organize your time, boosts friendships, and builds relationships with your peers and adults in and outside places.
John Konteh added that as a company they are very passionate about sports as there are lots of empirical evidences of their support to some  sporting disciplines such as football, volleyball, crickets as the list goes on.
John Konteh continued that the Africell inter-departmental LELEMU tournament will commence on Sunday the 28th May 2023 at the SS Camp X-tray Arena and therefore called on their valued subscribers to witness football at its best as they have talented players that have the skills and enthusiasm to play football.
John Konteh concluded by thanking all those that made it humanly possible to attend the epoch-making Africell Health and Fitness Walk initiative.
The event was climaxed with the taking of group photos and merriment in a quest to show gratitude for making it a success.
Africell is the leading telecommunications company in Sierra Leone that has invested in various sectors in the country such as entertainment, education, health, infrastructure etc. and as well gives local talents the platforms they deserve by bringing them to a wider audience.