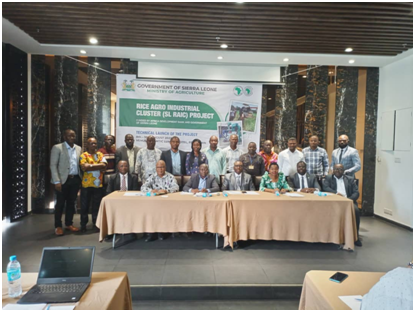 By Abubakarr Harding
The African Development Bank and the Government of Sierra Leone are supporting the $36million Rice Agro Industrial Cluster Project which is specifically geared towards enhancing rice self-sufficiency in Sierra Leone and improving the livelihoods of citizens in rural households.
In light of that, the Ministry of Agriculture has commenced a 3-day engagement on the Technical launch of the Rice Agro Industrial Cluster (SL RAIC) Project at the Atlantic Lumley Hotel in Freetown on Monday, 8th August 2022.
The Project will be executed by the Ministry of Agriculture in Bonthe and Pujehun Districts, where it is projected to benefit 5000 farmers within a five-year period.
The SLRAIC project was borne out of the engagement held between President Bio and the President of the African Development Bank, Dr. Akinwumi Adeseni in March 2020, when the President of the African Development Bank visited Sierra Leone and held fruitful discussions with President Dr. Julius Maada Bio on areas of cooperation, especially on Agriculture.
The key project outcomes are improved food security, Agribusiness skills development for employability and entrepreneurship and improved value addition and commercialization of rice.