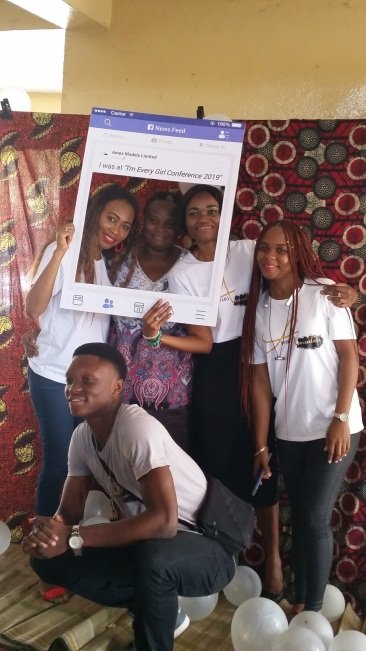 By Joenal Sesay – 20 August 2019
Ames Models Sierra Leone Limited has ended its Every Girls Conference at the St. Anthony Parish Hall.
The conference which took place on August 17th, 2019 targeted girls within the ages of 15 to 25.
The conference has been described as first of its kind as Ames Model focuses on every woman.
Ames Models Public Relation Officer (PRO), Annipha M. C. Sawaneh pointed out that the conference is awareness-raising for girls and for them to be better informed about their mental and physical health.
She disclosed that topics such as women's health, mental health, contraceptive, becoming keeper and beauty with purpose formed part of the event.
She added that their goal is to prepare girls for their transition and to encourage girls to stay with education.
Founder and Chief Executive Officer of Ames Models Sierra Leone Limited, Amy Bridget Sawaneh said Ames Model is an agency that is training and mentoring girls between the ages of 15 to 25 years that want to be a model.
"The main aim is to tell them that they can be models as well as others"
She said in Sierra Leone the modelling market is small and so models are not making money out of it but there are some girls that have the passion to do it but they need guardians to do that.
"I often tell them to be model but they should stay at school. They can be doctor, accountant what every they want to be as a way of empowering themselves"
She spoke about her desperation to become model during her childhood days and how girls have been missed used and abuse through modelling.
Amy Bridget Sawaneh who is a model and Accountant wants to give girls the platform to be a model through guardians and make something out of life rather than expos to unnecessary harassment.
She said Ames Models came into existence this year. She said she grew with a single parent and all what she learnt through life because her father can't teach her all the women things and her grandmother was uneducated.
"I knew people are in that same situation like myself, they are growing up without knowing things they need to know. That is why I decided to host this event for girls to be better inform about their personal hygiene and mental health"
She went on to say she did not want to target a set of people but all set of girls.
Noting that girls don't need to be the brightest to achieve their dreams but they need to move on and stay focus.
She said as female gender, they are all different but are going through the same thing but how they handle it will make them succeed.
She also encouraged other women that have the power to be a mentor to girls because they need it.
"I have started it and I am trying to get a larger group. You just need to give them word not money"
She emphasised that she want to ensure that girls have the confidence to do what they think is right.
According to Amy Bridget Sawaneh, most of the girls that dropped out of school are due to pregnancy, and when they are pregnant for them to go back to school is not easy, she said if they can prevent that to happen why they can't do it.
The girls she added need to be informed and they needed to know the measure how to prevent pregnancy.
Amy Bridget Sawaneh was the only sponsor in this conference but she is open to anybody that wants to sponsor them as she aimed of taking the campaign across the country trice a year.
"I want to be open and give way to all the children with no decriminalisation. I want to focus on the obvious once. Let us change the world, one girl at a time"
Presentation was made by Sister Kadijatu Salaam of Well Woman Clinic, Aminata Foray-Musa Educator/ Child Right Activist Chosen Network, Marie Stopes Sierra Leone and other motivational speakers gave their experiences on they overcome to succeed in life.
Posts such as girl power, we are girls and we are strong, the power of being a girl, this girl can, my health, my wealth. Get screen for breast and cervical cancer we all can do it! and good deeds day were placed at the hall.
Participants expressed happiness about the conference and called for more of this to reach more girls especially the less privilege.
Fatmata Binta Bah of St. Joseph's Covent SSS 2 described the event as educative. She promised to take the message back to her school and at home.
Cheryl Thomas at student at FBC Mass Communication Department described the initiative of Ames Models Sierra Leone Limited as a laudable one. She called on them to reach more girls as 70% of them lack such information. Breakfast, lunch plus entertainment formed part of the conference.