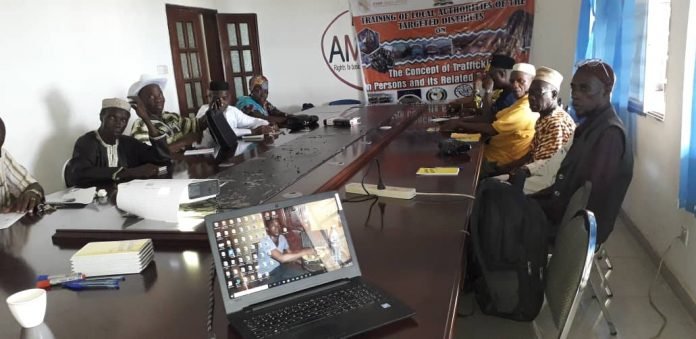 By Amb Festus J Lahai
On Friday 6th March, 2020, Advocacy Movement Network (AMNet) organized a special training on human trafficking with special emphasis on trafficking of women and girls for local authorities in the Western Area at their Head Office in Freetown.
Welcoming Chiefs and tribal authorities to the meeting, AMNet's Program Officer, Brima Conteh, disclosed that similar training had been provided to Chiefs in the 7 districts that AMNET operates in across the country and that it was important to do the same for tribal heads and Chiefs in the Western Area.
He noted that the Chiefs and traditional leaders are of immense importance in tackling trafficking, as they play a key role in preventing trafficking and dissuading traffickers who sometimes seek to use them as intermediaries in their quest to traffic especially women and girls to "greener pastures" whether within Sierra Leone or to foreign countries.
Addressing the tribal leaders and Chiefs, Program Manager, Mr. Samuel Bangura, noted that it as important to educate traditional authorities about the dangers involved in human trafficking and how they will contribute in combating this practice in the country. He noted that as most of the traditional leaders and chiefs were men, they should be strong supporters of the 'HeForShe' campaign, a solidarity campaign initiated by UN Women and the Ministry of Gender and Children's affairs with the primary goal of engaging men and boys as agents of change by encouraging them to take action against discrimination faced by women and girls.
He explained that AMNet is providing similar trainings to Chiefs, local authorities and other Government representatives in 7 districts within the country. He urged all Sierra Leoneans to report any act of trafficking. "Don't encourage traffickers and stop trafficking in your communities," he stated.
Lead facilitator, Sylvester Laggah, who is the Research Officer, Serious Organized Crime Coordination Directorate, Office of National Security (ONS), defined what trafficking entailed. He outlined several ways to combat human trafficking including the 4 P's approach namely Prevention, Prosecution, Protection and Partnership. They highlight seek to the need to prevent trafficking from occurring, protect victims of human trafficking, bring its perpetrators to justice and build partnerships domestically and internationally.
In explaining the constituent elements of trafficking, Mr. Laggah noted that the crime of trafficking in persons is substantiated when an "act" (recruitment, transportation, transfer, harboring, or receipt of persons) is committed by way of a "means" (the threat or use of force or other forms of coercion, of abduction, of fraud, of deception, of the abuse of power or of a position of vulnerability, or of the giving or receiving of payments or benefits to achieve the consent of a person having control over another person) for a purpose of exploitation.
He pointed out that traffickers recruit victims largely from rural provinces to urban and mining centres for exploitation in sex trafficking and forced labour in domestic service, artisanal diamond and granite mining, petty trading, rock breaking, street crime, and begging. Traffickers also exploit victims in fishing and agriculture, and sex trafficking or forced labour through customary practices, such as forced marriages. Traffickers typically operate individually, convincing parents to hand over their children and promising to provide an education or better life but instead exploiting the children.
At the end of the training, AMnet Program Officer, Brima Conteh, shared copies of training materials to all local authorities who attended the training and told them to share the knowledge gained during the training with their sub-chief and the people in their local areas.
AMnet CEO, Madam Hawa Sally Samai, thanked the participants for their continuous commitment for standing for women and children and appealed for them to share what they have learnt with their community and ensure they work as a team with the all other stakeholders working on trafficking.  "We are a team and that's the way to success " she ended.
The training was funded by International Organization for Migration (IOM) with support from the European Union (EU).