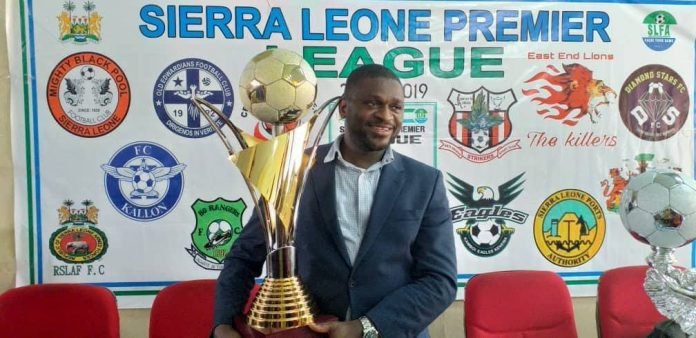 During four years, the Premier League became almost dead as a result of misunderstandings among key stakeholders, leaving the bulk of football fans to turn attention to watching European leagues. However, things recently took a different and dramatic dimension when the game was once more resuscitated, brought to life to the delight of majority of the citizenry.
The Sierra Leone Premier League Board was given the sole mandate to ensure that the national league is properly constituted and managed to ensure it turns out to be a success story. Under the capable and astute leadership of its Chairman, the charismatic Emmanuel Saffa Abdulai, the league gained vibrancy as the Premier League Board successful put all the necessary modalities in place to kick start the first phase of the league with support from the SLPP led- Government headed by President Julius Maada Bio and other stakeholders.
Thirteen teams, coming from Freetown and the Provinces, actively participated in the first phase of the competition, which by all estimation was truly interesting and well organised with little skirmishes.
Surprisingly, the League quickly drew a lot of interest from Sierra Leoneans who regularly turned out in large numbers to render support to their favourite teams depicting that many people in this country are very fond of watching football matches.
The first rounds of the League commenced from the 27th January 2019 and ended on the 10th April 2019.
According to Chairman Saffa Abdulai the resuscitation of the Premier league has helped in providing sources of earning income for many young people who hitherto were idle and prone to get involved in committing certain offences. "As a matter of fact we were informed by the Police that the crime rate has reduced drastically because most of our young people have turned their attention to the league," he highlighted.
Saffa Abdulai has been widely praised for his accomplishment at the end of the first rounds simply because the following figures show cumulative proceeds for all seventy-eight (78) matches played by 13 teams across the country.
During that first phase the following were achieved:
Tickets sold amounted to
Le: 2, 568,300,00
Expenditure Le: 316,171,200
Net sales Le: 2,252,128,800
Clubs 80% Le: 1,801,715,040
SLFA 10% Le: 226,629,800
District FA's 5% Le: 113,314,890
PLB 5% Le: 113,314,890
What also has been applauded is how the Board exhibited accountability through the display of proceeds generated from matches played which shows a high sense of patriotism on the part of the Chairman.
"We continue to encourage all host teams to immediately provide information to the Board as to proceeds generated during matches," he enjoined.
He disclosed that the second rounds of the league will commence on the 1st of May 2019 and they will ensure that it becomes super well organized and very much interesting.