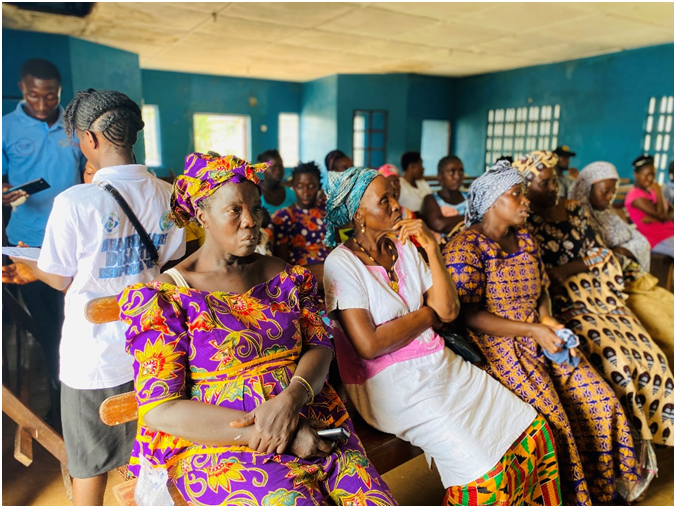 By Foday Moriba Conteh
In a bid to raise awareness on flood mitigation, CARE-Sierra Leone in Partnership with Health Alert and the National Disaster Management Agency (NDMA) on Wednesday 28th September 2022 embarked on one-day flood sensitization and mitigation awareness campaign within the Cassava Farm Community in Freetown. The flood sensitization and mitigation awareness campaign, which attracted stakeholders from the Cassava Farm Community, was held at the Leicester and Gloucester Community Center on Leicester Village in Freetown.
Speaking during the ceremony, the Documentary Officer of Health Alert-Abdul Karim Sankoh stated that the meeting was geared towards raising awareness on flood and disaster mitigation in those flood prone communities.
He further emphasized the importance of organizing such Community Stakeholders engagement and awareness raising.
Abdul Karim Sankoh maintained that the meeting was borne out of an initiative that emanated from CARE-Sierra Leone with funds from Start Fund to engage disaster affected communities in Freetown like Cassava Farm community with sensitization on how disasters like flooding could be prevented.
He said Health Alert, as an advocacy organization on Health and Human Rights, was contacted by CARE- Sierra Leone to engage the communities through meetings, mass sensitization, door to door meeting, among other activities, all geared towards mitigating flood and other emerging disasters of which he disclosed some of the preventive measures needed to be taken by community residents to avert disasters which are but not limited to construction of drainages, maintenance of those drainages, proper hygiene practices etc.
The Documentary Officer explained further that community residents are in the habit of blocking the water runways to erect buildings, dumping of wastes in drainages and cutting down of trees.
As a result of these harmful environmental practices, he furthered that communities have been exposed to flooding and other disasters especially during the rainy season, continuing that therefore, in order to ameliorate disasters like flooding and mudslide, community stakeholders need to be capacitated with the right information that will influence behavioral change.
Abdul Karim Sankoh called on stakeholders to serve as ambassadors in ensuring that the message is cascaded to everyone in the community as they're influential people in their various communities.
Commenting on behalf of residents of Cassava Farm Community, Pa Samuel Turay, a community stakeholder, profusely thanked CARE-Sierra Leone and Health Alert for their intervention in ensuring a behavioral change.
He assured Health Alert and Partners of his commitment to cascade the message to others that were not present in the stakeholders' engagement and to also form some bye laws in order to ameliorate flooding and other disasters that have befallen them.
Pa Samuel Turay stressed on the need for such stakeholders engagement particularly in a time like this adding that during the rains Cassava Farm is one of the communities that do suffer from flooding which sometimes lead to destruction of properties.
On her part, second in Charge Nurse at the Leicester CHP, Fatu A. Sheriff, also commended CARE-Sierra Leone and Health Alert for embarking on flood sensitization and mitigation awareness campaign within the Cassava Farm Community.
She encouraged residents to maintain proper hygiene which she said will enhance their wellbeing and their children.