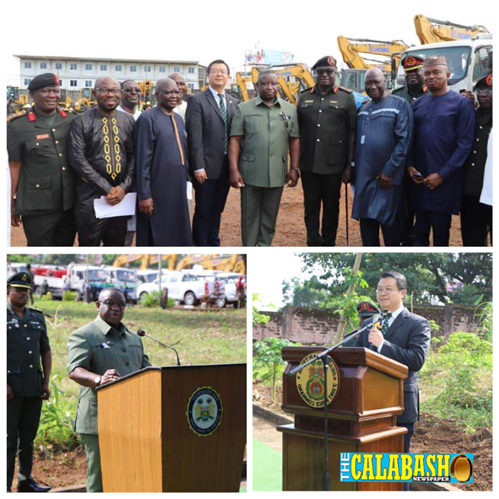 Li Xiaoyong, Chargé d'affaires ad interim of the Chinese Embassy in Sierra Leone on the 18th November,2022 handed over some equipment to the Republic of Sierra Leone Armed Forces  during an impressive ceremony in which  H.E. Dr. Julius Maada Bio, President of the Republic of Sierra Leone, the Minister of Defence, Kellie Hassan Conteh, Chief of Defence Staff, Lt. General Peter K. Lavahun, Joint Force Commander Major General Dauda Fred Alpha and other distinguished guests were present.
HE. President Bio expressed sincere gratitude to the Chinese Government and the People's Liberation Army for the extensive and significant support to Sierra Leone especially in the security sector. He said that the donated equipment will support RSLAF to undertake civil works in disaster mitigation and response, including flood control and medical and humanitarian emergencies. President Bio promised that Sierra Leone will continue to deepen and promote the solidarity and cooperation between the two friendly nations.
Li Xiaoyong pointed out that the aid is meant for supporting the commendable efforts of the Sierra Leonean Government in enhancing the capacity of its Army. It is a result of the long standing and profound friendship between the two countries and two armies. It is also a concrete action of China in supporting Sierra Leone in pursuing greater development.
He expressed the belief that the items will boost the morale of soldiers and contribute to the consolidation of peace and security in this country and help President Bio's New Direction Strategy in delivering more well-being to the country and to the people.
Mr. Li said that China has embarked on a new journey of modernization as announced during the 20th Communist Party of China (CPC) National Congress and China will continue enhancing its cooperation with Sierra Leone to promote the partnership to a new high.