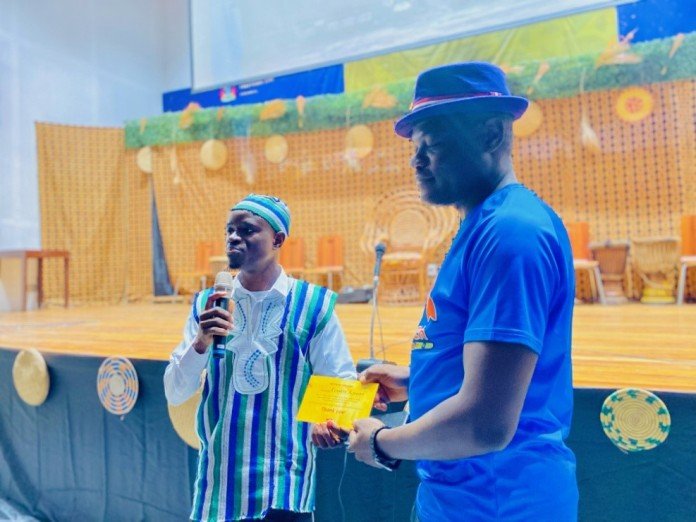 By Foday Moriba Conteh
One of the brands marketed by Premium Divine Trading Company Limited, a food distribution company that operates as an agent for Promasidor Holdings, a leading distributor of quality food products in Sierra Leone, Cowbell, has supported the National Storytelling Festival Season 6 Grand Finale on the theme: "My Life, My Land, My Culture, Peace FƆDae," organized by the Patriotic Advocacy Network-Sierra Leone (PAN-SL) in partnership with Usifu Jalloh commonly known as Cowfoot Prince.
The National Storytelling Festival Season 6 Grand Finale which is geared towards celebrating the country's rich culture and tradition heritage was held at the City Hall Auditorium, on Wallace Johnson Street in Freetown.
The National Storytelling Festival is an annual event that celebrates the traditional and contemporary oral heritage of Sierra Leone and promotes both literary and oral culture together with traditional songs that are under threat of extinction. The NSF has inspired people in all facets of society including pupils, students, educators, elderly people and Sierra Leoneans in the diaspora; thus, creating the platform for people to share their stories in a well-structured, organized, educative and entertaining manner.
For the past 5 editions, NSF has been able to attract the attention of both national and international audience.
One of the objectives of staging the event was to create a platform where the young and youth can showcase their talents, to bring young people together to tell the beautiful and educative stories of Sierra Leone and to engage school pupils to know more about their heritage of our Motherland, in order to revamp and celebrate the rich oral, literary culture and heritage of our beloved country.
Premium Divine Trading Company Limited's partnership support to the National Storytelling Festival Season 6 Grand Finale, was to enable the company continue on its massive education on healthy eating habits by availing their products to actual and potential consumers, the Cowbell nutritious package, to enable them and their families to enjoy good nutrition through the consumption of assorted Cowbell products and Miksi Chocolate Drink that was also sampled during the event. The move by the company was seen as a laudable venture in the expressive appreciation of its valuable, actual and potential customers.
Addressing the gathering, the Country Manager of Premium Divine Trading Limited, Kenneth Konuah, appreciated Patriotic Advocacy Network for organizing the National Storytelling Festival which he said will contribute towards showcasing the country's rich culture and heritage.
He maintained that the theme: "My Life, My Land, My Culture Peace FƆ Dae," is not only important but very timely. He amplified the importance of peace in the country of which he encouraged all to embrace peace.
He said that Premium Divine Trading Limited deemed it fit to support the National Storytelling Festival as part of their educational campaigns on the essence of milk consumption in the country and to support healthy living.
"If you are talking about my life definitely food plays a key major role, so it is important to also educate the children to eat right. What you eat at this point in time is going to affect you in years to come," he underscore.
He said that Premium Divine is a quality food company and they are committed to ensuring that everybody enjoys good food and that the company has been embarking on supporting various activities in the country in order for the company to continue on its massive education on healthy eating habits in the country.
Kenneth Konuah stated that Cowbell products come in 14g sachet, 20g sachet, 360g sachet and 400g tins for the milk.  Also, cowbell food drinks package sizes are 40gs for the Coffee, Strawberry, Coconut, Choco-Malt and Cowbell Mocha. They are all produced in Ghana by Promasidor Ghana Limited for export sales to some West African countries including Sierra Leone.
He used the opportunity to inform all that the Company also distributes and markets, Onga, Miksi Chocolate and coffee drinks, Kremela, and Yumvita, the latter being an infant cereal with milk also containing wheat, rice, and maize.
The Country Manager stated that as a company they can guarantee the availability of quality food products for consumption by everyone with Cowbell products.
He concluded by appealing to all to always buy the quality food products of Premium Divine Trading Company Ltd Especially Cowbell milk because it is enriched with all the necessary nutrients needed for growth in the family.