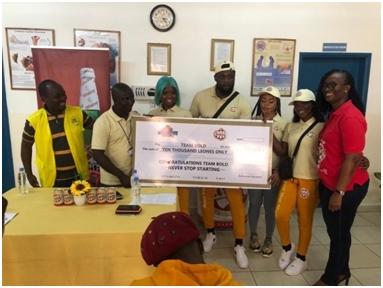 By Amin Kef (Ranger)
During the recently concluded Reality TV Show, Housemates Salone Season 3, with the slogan, "De Game Get Yagba If U nor able Nar For Pull Han", organizers of the Show, AYV Media Empire and Africell-SL made provision for corporate institutions to provide sponsorship and gave them the platform to advertize .
The competing Housemates were given various tasks to perform by some of these corporate institutions as a way of popularizing their products and services. The corporate institutions gave certain tasks to be performed by the Housemates on the understanding that prizes will be given out for best performances.
To honour that promise the SLBL formally presented prizes to Ex-Housemates who won the Mutzig Tasks during the Housemates Season 3 Reality TV Show. The presentation event was graced by top Management of SLBL and several Ex-Housemates who were colorfully and smartly dressed in their Mutzig Outfit (Mutzig hoodie, cap and T-shirt) as they met and held fruitful discussions with top Brewery Management.
"Team BOLD", comprising of Ex-Housemates, bagged the prizes for winning the Mutzig Tasks. The team included Alice Hannah Kanjia aka Team Network; Patricia R. Tucker aka Patrose; Abdul Alhadi aka Double A and Yeanie Helen Sundufu aka Team Wanpot.
One of the members of staff of SLBL, Aminata A. Kamara delivered a statement on behalf of the Managing Director of SLBL, Laurent Bukasa.
She, on behalf of the Management and Staff of Sierra Leone Brewery Limited welcomed all to the stead of excellence, home of premium quality beers where they brew the joy of true togetherness.
According to her it is always a pleasure to see the relationship between their brands and  consumers growing adding that they are elated to have had Mutzig – one of Sierra Leone's leading beer brands – as one of the lead sponsors in the 2022 Housemate Salone Season 3 – The Yagba Season.
"I am also proud to say that we have been a part of AYV's vision with Housemate Salone since Season 1 and it's been quite a remarkable journey," it was stated adding how at Sierra Leone Brewery Limited they have a range of non-alcoholic and alcoholic brands including Star, Amstel, Heineken, Maltina, Guinness, Trenk amongst others but for the purpose of the sponsorship, Mutzig takes center stage.
Mutzig Lager Beer, she intimated, is a superior-quality premium lager, locally brewed using the finest ingredients, and has been in existence for over 8 years.
She added that the brand is known for its support of activities that celebrates talents, entrepreneurs and high achievers, a beer that is distinguished not only by its distinctive packaging but also by the distinctive aromatic experience it offers.
Aminata told a gathering that was now ecstatic that it is a beer for champions, for the go-getters, the self-starters and the brave hearts that never quit, thus they say NEVER STOP STARTING!
"The Mutzig man/ woman believes success is a journey where hard work and dedication pays off ultimately," she maintained adding how they believe in a dream big enough to scare them but they are BOLD enough to achieve them.
She said it is by no coincidence that Team Bold won the Mutzig Task because they contested against other strong teams who were of course equally capable of winning and they won against all odds.
According to Aminata, the teams were given 20 minutes to develop a play, music or a poem that will bring to life the Never Stop Starting message with a success based thinking.
She said the Housemates were very creative and their tasks were indeed quite insightful, educative and fun at the same time adding that the storyline of the winning team was quite good and they even did a combination of tasks within the 20minutes allotted time with interesting characters.
"Today we handover the check of 10,000 new Leones to Team Bold (Alice, Yeanie, Patrose) which will be equally shared between the team members," she announced adding that they believe it is just the beginning of the journey for not only Team Bold but all contestants and hope to see more partnerships and collaborations in the future.
She, on behalf of SLBL, congratulated all challenging them to NEVER STOP STARTING and to take the world by storm specially congratulating the winner of the Season, Juliana Conteh (AKA Julie TOMBO, AKA The Yagba Diva) who was present
Aminata ended that it is also their desire to continue to partner with the Africa Young Voices in the identification of young talents and showcasing such talents to world saying  the marriage will not end  on that day today saying they believe that together they can make a difference.