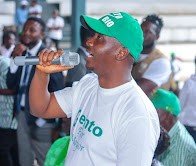 By Amin Kef (Ranger)
"I will get the job done with your support. I hope that you are ready to use the knowledge you have gained to make Freetown the best city in the world and I am appealing to you all to vote for me on June 24, 2023 because I am a builder and I fix things. I have what it takes to fix Freetown, the reason why I am contesting for the position of Mayor of Freetown Municipality."
These words from the People's Mayor of Freetown, Chief Mohamed Gento Kamara, which received thunderous applause from University of Sierra Leone – Fourah Bay College (USL-SL) students when the Mayoral candidate honored an invitation from the FBC Students Union. The event took place at the FBC Amphitheatre, Mount Aureol on Monday, 5th June, 2023.
Earlier, FBC SU President, Alfred Sesay, while giving the welcome address, described Gento Kamara as an asset to Sierra Leone. He outlined the numerous humanitarian and construction works the Mayoral candidate has embarked on for which he is highly commended. He cited several occasions when Gento Kamara, out of his own volition, contributed to the welfare of numerous students through provision of scholarships and other philanthropic gestures.
He used the opportunity to assure Gento Kamara and his wife who accompanied him to the event, Tuma Gento Kamara of their wholehearted support, adding that they too want to see a Freetown which can be compared to other 21st Century cities across the globe.
In his keynote address on the theme: THR ROLE OF STUDENTS IN FIXING FREETOWN, Gento Kamara started out by thanking them for inviting him and for the warm reception. He said he is always happy to come to FBC because he likes to interact with people who are tomorrow's leaders. He maintained that he is also happy that throughout these years, despite the poor state of utility services that should be provided by the Freetown City Council, the students were able to pull through.
He went to say, however, he is disappointed that in five years, the past head of the FCC could not fix the water, sanitation and other problems plaguing Freetown. He noted, however, that when he is elected Mayor of Freetown on June 24, this year, he will fix all the perennial problems Freetown has been facing because he has the requisite knowledge, expertise and moral standing to do what he can to develop Freetown into an epic city.
Gento defined economics to the students as a means of using sparse resources to satisfy many wants, adding that in the case of practical economics, he would use the little resources resourcefully to solve Freetown's myriad problems. He further defined social science as a relationship between scarce means and meaningful use of those scarce means.
He admitted that indeed Freetown is dirty but that with the collaboration of students, they would together fix the problems of Freetown. He said: "This is the time to fix Freetown. This is the time to make the change. To everything there is an alternative. I am that alternative because the one before me that wants to come again failed us woefully. I am here to fix Freetown."
He informed the students that he has a track record of over twenty years serving as a builder and a philanthropist adding  how nothing is impossible unless you believe it is impossible and cited that when he initially opted to run for Mayor, he was told that he could not because of his tribe and the region he hails from.
"But let me tell you, Freetown belongs to all of us and not to just one tribe. Therefore, I am appealing to you to support me in fixing our noble and ancient city, Freetown," the Mayor-in-waiting told the students.
He noted that before now, huge amounts of money were allocated to the FCC to clean the city and fix other things but that nothing was done and the money unaccounted for. He promised that there would be nothing like that in his administration.
Several other speakers made pertinent contributions, all adding accolades and giving assurances and endorsing Gento Kamara as the next Mayor of Freetown.
The climax of the event was the presentation of an award by the FBC Student Union. The citation on the prestigious award read: "This award is presented to Chief Mohamed Gento Kamara for all the Good woke na we beloved country."
The students publicly promised that on June 24, 2023, they would cast their votes for him.
A question and answer session took place before the event came to a close.