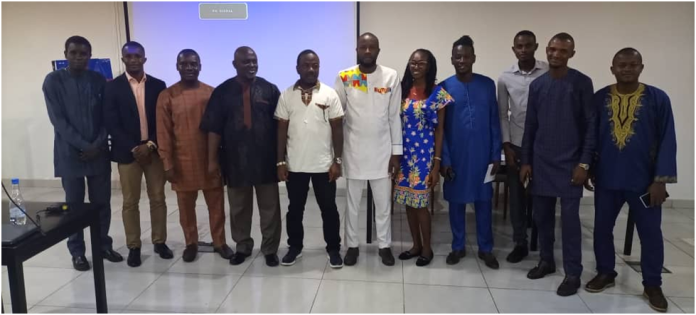 By Foday Moriba Conteh
The Chief Executive Officer of FOCUS 1000, Alhaji Bailor Jalloh has called for the enforcement of the "Tobacco and Nicotine Act, 2022" which was recently passed into law by the Parliament of Sierra Leone in order to eliminate smoking in public places.
He made that disclosure at a media breakfast held on Friday 19th August 2022 at the Country Lodge Hotel in Freetown.
Alhaji Bailor Jalloh said that FOCUS 1000 is a non-profit, national development agency in the country that is committed to making the best investment in the most crucial time in a child's life from conception and pregnancy until the child reaches age two, stating that during that period, the child is fragile and susceptible to many illnesses and environmental conditions such as diarrheal diseases, malaria, malnutrition, and lack of access to safe drinking water and sanitation.
He pointed out that FOCUS 1000 partners with the Government, UN Agencies, and other local and international organizations to promote simple, cost-effective and high impact interventions that can help build a solid foundation for children to survive, thrive and develop to become productive citizens.
The CEO maintained that as an organization they are very pleased that the Parliament Sierra Leone has on the 3rd August 2022 enacted into law, with some amendments, the Bill entitled "The Tobacco and Nicotine Act, 2022", after committing it to the Legislative Committee for further scrutiny, furthering that the Bill sought to provide for the control and regulation of the production, manufacturing, importation, packaging and labeling, advertising, promotion and sponsorship, sale and use of tobacco, tobacco products, and other nicotine products, to provide for the improvement of public health by limiting the health harms caused by the use of, and exposure to, tobacco including nicotine in the country.
He informed all that Tobacco use is harmful to one's health and that the chemicals in tobacco and tobacco smoke can cause damage to most of the body's organs.
Alhaji Bailor Jalloh further pointed out that Tobacco use is damaging to teens because their bodies are still growing, that the chemicals in tobacco interfere with the process of their growth and development.
He said smoking leads to disease and disability and harms nearly every organ of the body, adding that for every person who dies because of smoking, at least 30 people live with a serious smoking-related illness, continuing that eliminating tobacco can protect millions from heart attacks and stroke as tobacco causes over 2 million deaths from cardiovascular diseases every year adding that worldwide, 1 in 10 heart
disease deaths are linked to tobacco.
The CEO pointed out that tobacco kills half of all its users and that it is a leading cause of cancer, chronic lung diseases, and diabetes. In addition, it causes infertility; impotence; miscarriage; bad breath, and high blood pressure.
"If you use tobacco, quitting brings immediate and long-term benefits. In just 1 year, your risk of coronary heart disease is about half that of a smoker's, while your lung cancer risk
halves after 10 years," he stated maintaining that some tips to leave tobacco behind include: Staying busy and active and changing one's routine to avoid the triggers of tobacco use, such as alcohol or being around other smokers.
The Honourable Member of Parliament for Constituency 026 Kono District, Hon. Aiah Kassegbama, said the bill, which has been enacted into law, would address the issue of smoking in the country.
He urged stakeholders to ensure the popularization of the "Tobacco and Nicotine Act, 2022" in order to get citizens informed about the law.
The Member of Parliament stated that with the passing into law the act of public smoking becomes a crime, of which he encouraged citizens to be mindful of the act and that defaulters will face the law.
The Quality Control Officer at World Health Organization (WHO) FCTC/NCDs, Reynold Senesi, said that tobacco has been responsible for millions of deaths around the world, adding that Tobacco kills 8 million people every year, 1.2 million of which are due to second-hand smoke expose.
He stated that Tobacco toxins cause damage to blood vessels leading to narrowing and reducing flow of blood to vital parts of the heart and that more than 50% of all smokers die of a disease known to be smoking-related.
The Quality Control Officer said that Sierra Leone is among 38 countries that have passed the "Tobacco and Nicotine Act, 2022" into law which he described as a laudable venture towards eliminating smoking in the country.
A representative from the Ministry of Health and Sanitation also expressed similar sentiments during the ceremony.