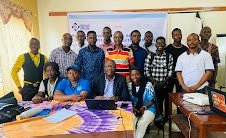 By Foday Moriba Conteh
As part of their strides towards capacitating journalists on investigative health reporting in the country, Health Alert Sierra Leone, with support from AHBN and Ford Foundation, has on Thursday 25th May, 2023 concluded a one day training workshop for journalists on Investigative Health Reporting, on Access to Equitable COVID-19 vaccines and Finance Accountability in Sierra Leone. The training which brought together 15 journalists from different media houses was held at G-GEM Hall on John Street in Freetown.
Giving an overview of the training, the Executive Director of Health Alert, Victor Lansana Koroma said that the training is geared towards empowering journalists with the necessary knowledge and skills needed in reporting health issues in the country.
He said that COVID-19 has caused significant health, social, and economic impacts worldwide and vaccination is one of the most effective measures to prevent the spread of the virus and protect individuals and communities, adding that however, vaccine hesitancy and access issues have led to lower vaccine uptake rates in many countries.
Victor Lansana Koroma said that the training will explore a right-based approach to increase COVID-19 vaccine uptake and knowledge of journalists in health reporting.
He stated that a right-based approach to healthcare is based on the recognition of the fundamental human right to health, including access to quality healthcare services and health education and it focuses on the needs of vulnerable and marginalized groups and seeks to empower individuals and communities to take an active role in their health.
The Executive Director pointed out that Media professionals are required to remember that information dissemination cannot be licensed to inflict unnecessary sufferings on individuals or the society of which he added that in health reporting professionalism is very key.
His statement was followed by a presentation on the rights based approach and media ethics in health reporting.
Journalists present expressed appreciation to Health Alert and Partners for the training workshop describing it  as not only important but a very timely intervention towards capacitating journalists on health reporting.
They assured all that the skills and knowledge acquired during the training will be put into practice in their day to day reporting especially on health matters.
In another development, the Executive Director of Health Alert, Victor Lansana Koroma used the opportunity to call on political leaders in Sierra Leone to urgently prioritize the health and rights of women, children and adolescents in their Political Manifestoes. This call was made while reading a Press Statement by Health Alert Sierra Leone.
He said that May 21st-26th saw the conclusion of the 76th World Health Assembly in Geneva, Switzerland highlighting how it was the platform where world leaders and other key development stakeholders met for the annual discussion of the world's biggest health challenges, and the priorities and bold action needed to tackle those challenges across countries.
The Executive Director maintained that as Health Alert, in partnership with the RMNCAH+N CSO and Media Coalition, advocates for women's, children's and adolescents' health, this is an opportunity to lay out the most pressing health issues currently faced by demographics that are often forgotten, including child marriage, high rate of teenage pregnancy, high risks from intimate partner violence and abortion, adolescent mental health issues, which have all increased as noted in the Protect the Promise – 2022 Global Strategy for Women's, Children's and Adolescents' Health (2016-2030) Progress Report, and this year's World Health Assembly Report on implementation of the Global Strategy.
"As a policy advocacy and human right organization for women, children, adolescents and youths in Sierra Leone, we fully recognize and applaud the Ministry of Health and Sanitation and its development partners for their strides in reducing the high rate of infant and maternal mortality, improving on infrastructure, human resource etc," he revealed.
Victor Lansana Koroma stated that ,however, despite these gains made, they as Civil Society are asking Policymakers, Political Leaders and Political parties to prioritize the following in their political agendas or Manifestoes: to strengthen political and financial commitment for women's, children's and adolescents' health and well-being by fulfilling the 15% Abuja Target of 2001, accelerate prioritization on health financing and implementation of comprehensive sexual and reproductive health and rights including Family Planning in national universal health coverage plans, prioritize adolescent well-being in national development plans and strategies and implement adolescent well-being policies and programs etc.
He concluded by calling on all political parties and their supporters to be peaceful, law abiding and be patriotic citizens for the development of Sierra Leone.
Victor further called on ECSL, PPRC, the Police, ONS and all other security apparatus to ensure  Free, Fair, Transparent and Credible elections for the health and well-being of all in Sierra Leone, whilst at the same time condemning any form of political intimidation, hate Speech and Violence at all levels of political activities in the forthcoming 2023 General elections.