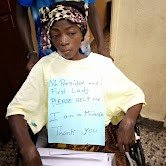 By Amin Kef (Ranger)
One of the most painful experiences in life is to haplessly witness a loved one's life gradually waning or coming to an end, when it should not, more especially in need or longing for the required resources and the wherewithal to prevent such from occurring  by accessing qualitative medical treatment, an odd feeling that can only be replaced with happiness when something is swiftly and positively done to save that individual's life.
That experience becomes very much unbearable and psychologically traumatizing when cognizance is taken of the importance and usefulness of the individual, whose life is hanging in the balance, to his or her family members, friends and the society at large.
Wanting to rescue someone known to be very caring, trustworthy and relevant in society, but who now finds him or herself in a terrible life threatening situation and on the other hand, being extremely powerless to do so will obviously rob one of the joy and happiness that would have flowed if only the means and ability were available to give a helping hand.
Lamentably, relatives and friends of a young lady, who goes by the name of Mattu Nyuma but commonly referred to as Nurse Mattu Nyuma are currently facing this ugly situation as they are trapped in this quagmire of being unable to facilitate qualitative medical treatment for their beloved daughter, sister and friend who is currently seriously ill as she is suffering from a liver disease and currently admitted at the Intensive Care Unit (ICU) of the Connaught Hospital in Freetown. Her condition has been really confirmed critical and after various medical treatments in the country it was finally concluded that she needs urgent medical treatment outside Sierra Leone.
Mattu Nyuma is a certified, trained and qualified mid-wife who, over the years, has selflessly worked within the health sector and during times of active service has contributed immensely, especially with regards to the reduction of infant and maternal mortalities in the country. She is held in high esteem by many for her humility, kind nature and her firm religious tenacity.
A close friend of Mattu, during a privileged chat with this medium, passionately narrated an incident in which she tried to bring out the good qualities that Mattu possesses by clearly portraying the type of kindhearted and supportive person she is.
According to the friend, she first met Mattu on the 25th of November 2021, when she (the friend) was pregnant with high blood pressure as a young lady struggling with her second supposed surviving pregnancy.
She revealed how her fiancée and her looked forward, with great hope, towards the day their bundle or joy will arrive, but said she had too many complications and was referred to see a doctor at the Princess Christian Hospital also known as Cottage hospital in Freetown.
The friend continued that upon arrival at the hospital when her blood pressure was checked it was high beyond control and so she was referred for an emergency where she was given some doses of medications.
However, they were then informed that the baby was at risk and her life too was at risk if they allowed her wait and undergo normal labour and delivery. She was to undergo an operation to get the child out before time to avoid the risk of kidney failure. Lamentably, the pregnancy wasn't due and few days to 8months, the Dr made it clear to them that the tendency of the survival of the child was slim.
The friend said they told her that the child might not make it through and narrated how she and her husband broke as she felt it was the end of the world for them.
"We cried beyond control and then I was left alone to think and consider," she recalled adding that fortunately Nurse Mattu , being the first Good Samaritan, God sent Counsellor came in the ward where she was admitted, looked at her ,but said by that time  she had far gone as she  was almost dead as a result of the medications and bad news.
"She actually met me saying goodbye and my last prayers and she asked me in a cool tone, "I thought your name is FAITH?", "Where is thy FAITH and thy GOD?". She also said these words: "Doctors administer but God endorses it", "Doctors give treatments but God endorses total Healing", "I believe God is not yet late, you can talk to Him".
The friend, in her narration, underscored that Nurse Mattu's words of encouragement arose the confidence in her, revived her spirit, soul and body stressing how those words came with power and strengthened her.
She also pointed out how Nurse Mattu prayed with her and from that very moment the warrior spirit in her came alive and she began to counter or pray against all the prescriptions, diagnosis, disclosing that with that foundational counsel from Nurse Mattu Nyuma, she and her baby survived all the heavy doses of medications,
She said she used her faith to challenge the Doctor's diagnosis and backed it up with heavy warfare prayers which, according to her made it possible for the operation to be set aside and she went into normal labour only to deliver a premature baby on the 30th November.
Mattu's friend revealed that even when the baby and her were at the Special Care Baby Unit (SCBU), Nurse Mattu, will visit them, pray and encourage her to be steadfast in her faith.
She said on the day of their discharge from SCBU Nurse Mattu was with them and was so happy as if the baby was hers and as if she was her sister adding that since that time she has been in constant touch with her to know how the baby is doing.
Mattu's friend said emotionally:  "She's too kind to remain in such a condition without help".
Against the aforementioned backdrop, Mattu's friend is passionately appealing to the Government, Non-Governmental Organizations and well meaning individuals to intervene and render assistance to Nurse Mattu Nyuma in order for her to get specialized treatment overseas and regain her health for the benefit of all and sundry.
According to the friend, who has shown so much concern, it's good for contributions to be made now than wait for Mattu's funeral.
The friend reiterated how she is joining other midwives and the Class of 2021 Bsc COMAHS to kindly ask for individual or institutional support in raising the sum of $40,000 for a liver transplant.
"We're calling on President Bio and the First Lady, Madam Fatima Bio, humanitarian organizations, companies, individuals etc.to please help in saving our colleague 's life," she appealed saying nothing is too small to help save a life further adding that whatever little will be appreciated as God will bless anyone who does so.
She said to get in touch anyone could please feel free to contact these numbers for further enquiries: 078277851 & 078344046.