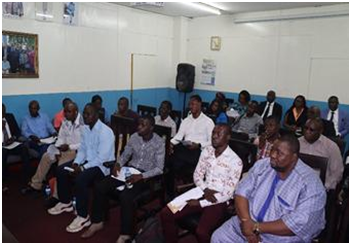 By Amin Kef (Ranger)
The Independent Media Commission (IMC) on Monday 22nd August 2022, held a consultative meeting with newspaper Editors, radio and television Station Managers on ethical broadcast and publications at the Commission's Conference Hall in Freetown.
In his welcome statement, The IMC Executive Secretary, Khalil Kallon, in his welcome statement, disclosed that the engagement was convened as a result of the Commission's concern over unethical broadcasts and publications by certain media houses during and after the August 10th violent demonstration.
He added that the business of the Commission is to see that sanity prevails in the media landscape in the country and as such, the IMC sets parameters for registration and licences of media institutions and ensures that the media operates in a well-regulated manner in line with the IMC Act 2020 and Media Code of Practice.
IMC Chairman, Dr. Victor Massaquoi, on his part, called on media practitioners to be mindful and responsible in the discharge of their duties as journalists. He cautioned journalists to be mindful of their tones in reporting as well as in their manner of writing in their newspapers. The IMC Chairman appealed to them to avoid hate speech, incitement and negative tribal messages in the media, noting that Sierra Leone 'is the only country we have as our home and the peace of the nation should be paramount to everyone irrespective of status'.
He warned Managers and Editors to operate their media houses on guiding principles such as Accuracy, Balance, Fairness and Credibility, which he said must be observed by all media practitioners during their education, information and entertainment programmes. Chairman Massaquoi cautioned them to "WATCH"—their words, their actions, their thoughts, their character and their habits; noting that Sierra Leone cannot afford to go down the road of Rwanda which tragic event was caused by a particular radio station.
Dr Massaquoi informed his audience that the Commission is investigating some newspapers, radios and television stations prior to, during and immediately after the 10th August 2022 event. He stressed that the provisions of the IMC Act and Media shall be invoked on any media institution found to be in breach of the laws as necessary.
The engagement was climaxed by five key resolutions:  Managers/Editors to uphold and respect the provisions of the IMC Act 2020 and Media Code of Practice; Managers/Editors denounce promotion of hate speech/messages in the media; IMC to distinguish publications considered to be tribal, political, inciting and hate speeches; IMC to ensure that the media have more ethical reporting standards training across the country; IMC to advocate to Government and other advertisers for payment of advert monies owed to media houses.