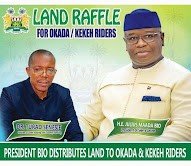 By Amin Kef (Ranger)
In sequel to a recent notification put out by the Ministry of Lands, Housing and Country Planning informing Okada and Kekeh riders to apply for land, which will be offered by Government, free of charge, the Media and Public Relations Office of the Ministry has on Friday 31st March, 2023 commenced an outreach and mobile registration/application process targeting various Okada and Kekeh across the Western Area.
The outreach team led by operations consultant, Murtala Mohamed Kamara, registered Okada and Kekeh Riders at the Model Junction Park while at the same time popularizing the land raffle concept and opportunity.
It was stated how the team is targeting the various prominent parks in the coming days until the expiration of the application deadline. The team will be at the various parks with loud speakers, banners and registration forms on the following schedule:
Model Junction – 31st March 2023
Kingtom – 1st April 2023
Wilberforce – 3rd April 2023
Lumley – 4th April 2023
Up-Gun – 5th April 2023
Shell – 6th April 2023
Wellington – 7th April 2023
Jui – 8th April 2023
Waterloo – 10th April 2023
Kent – 11th April 2023
Hamilton – 12th April 2023
Okada and Kekeh Riders are therefore encouraged to locate the registration team and apply to qualify them to participate in the raffle.
The forms can also be obtained from the Front Desk of the Ministry or downloaded from the website – www.molhcp.gov.sl.