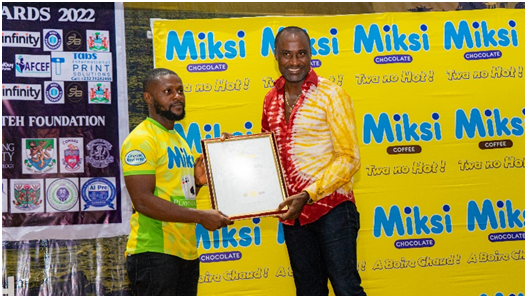 By Foday Moriba Conteh
Miksi Chocolate, one of the brands marketed by Premium Divine Trading Company Limited, a food distribution company that operates as an agent for Promasidor Holdings, a leading distributor of quality food products in Sierra Leone, has on Saturday 12th November, 2022 supported the 50 Most Influential Students Award ceremony with the theme: "Student Power In Academic Pursuit" organized by Girl Pikin for Betteh Foundation and Mendelian Inheritance Foundation at the New Freetown City Hall Auditorium.
The support to the 50 Most Influential Students Award was done within the context of the company's massive education on healthy eating habits by availing their products to actual and potential consumers of chocolate, the Miksi nutritious package, to enable them and their families enjoy good nutrition through the consumption of Miksi chocolate drink that were sampled during the award ceremony.
Delivering a statement, the Executive Director of Girl Pikin for Betteh Foundation, Fawaz Milton Kanu said that the 50 Most Influential Students award is an initiative of two women- led organizations powered by Girl Pikin for Betteh Foundation and Mendelian Inheritance Foundation.
He stated that students play very important roles towards national development and that their efforts should be recognized, revealing that the Fifty Influential Students award recipients represent the most influential students in various departments in college, entertainment etc.
He disclosed that in November 2021, they held their first ever 50 Most Influential Students' Awards Ceremony as a way of recognizing the efforts of students towards National Development among thirteen universities and colleges across the country.
Fawaz Milton Kanu pointed out that the Award Committee called on students and the public to nominate & vote for exemplary students that have contributed towards community and national development for the past years and who are promoting education, entertainment or have served as inspiration to other students in the country, furthering that after the nomination and voting process they are finally proud to award the deserving students of this year's 50 Fifty Most Influential Students.
He concluded by expressing appreciation to Premium Divine Trading Limited for supporting this year's 50  Most Influential Students with a donation of 75 cartoons of Miksi Chocolate.
Speaking on behalf of the company, the Marketing Manager of Premium Divine Trading Ltd, Kenneth Konuah, said that Premium Divine Trading Limited deemed it fit to support the award ceremony as part of their Corporate Social Responsibility in the country.
He informed students present at the ceremony that as students from different institutions one of the biggest decisions they will be making has to do with nutrition.
"As students what you eat is very important so when it comes to food choose right, choose well and choose quality food and that is what Premium Divine Trading Limited stands for," he admonished.
Kenneth Konuah revealed that Miksi brand consists of Miksi powdered milk, Miksi Chocolate and Miksi Coffee of which he encouraged students to add Miksi as part of their daily food intake adding that Miksi offers a healthy beverage or snack anyway, anytime, adding that the company also distributes and markets Onga, Xploza, Kremela and Yumvita , the latter being an infant cereal with milk also consisting of wheat, rice and maize and wheat variants.
He concluded by appealing to all young people present to always buy the quality food products of Premium Divine Trading Company Ltd especially Miksi Chocolate and Miksi Coffee because they are enriched with all the necessary nutrients needed by the body.
Giving the keynote address, the aspiring candidate of Mayor of Freetown, Mohamed Gento Kamara commended the organizers and sponsors of the 50 Most Influential Students Award 2022.
He informed students that there are greater powers in academic pursuit but said in pursuing their academic goals, they always have to be aware of self-discipline, because with self-discipline, the sky will be their limit.
"In pursuing your academic goals you have to be very
mindful of the invisible distractions. In Sierra Leone today, there is an
epidemic that is eating up the future of our youth and that epidemic is
'kush' a major distraction for the youthful generation. With all due
respect, I will encourage you to be mindful of this kind of distraction," he revealed.
He implored students to know that their goal to become graduates depend on what they do now as he strongly believes that his tomorrow depends on what he does now, adding that in pursuing their dreams or to get to the sky, there is always a vehicle and it must be noted that the vehicle needs proper service and maintenance at all times.
"As students, you have chosen academia as your vehicle to reach the sky. You will need regular service if you want to reach at your destination. This could mean studying hard, proper planning, avoiding all forms of distractions, having an unwavering focus on your course work. On that note, I congratulate all awardees. And to those who will not be receiving awards, I hope this ceremony will serve as an inspiration to you," he concluded.
Climaxing the ceremony was awarding the 50 Most Influential Students and giving each a cartoon of Miksi Chocolate.