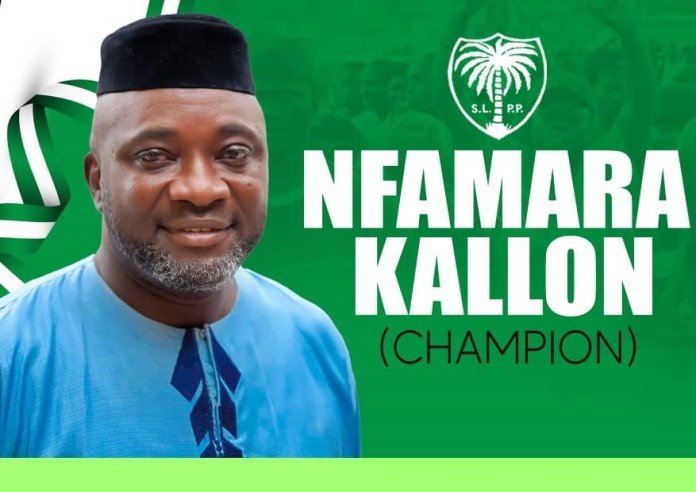 By Amin Kef (Ranger)
One of the influential personalities that have come forward to compete in the forthcoming June 24 General Elections for the position as a Member of Parliament in Constituency 035 in the Bombali District is, Nfamara Kallon, who has been described by many as the indefatigable champion of development and a charismatic figure.
Nfamara Kallon was one of the aspiring candidates that received, on the 8th May, 2023,  their provisional nomination certificates after successfully going through the nomination process at the ECSL Office in Makeni in a ceremony that was described as electrifying.
It is now envisaged that the SLPP is set to clinch 4 out of 8 Parliamentary seats in Bombali district as sixteen of its MP candidates have received their provisional nomination certificates.
Addressing a cross section of residents of Bombali District, the aspiring candidate stated that there is nothing good to write home about the previous Parliamentarian who stands accused of constructing only one Court Barray.
He said notwithstanding all his busy schedules, he always ensures that he strengthens the cordial relationship with the elderly, youthful and religious personalities in his constituency and has seen the lapses as well as mapped out strategies to address all the problems faced by his constituents when given the opportunity to serve and represent his people in Parliament.
He commended President Bio for spending  a lot of money to improve education in Kamabai adding  that during the tenure of the former President, electricity was not stable and how this present ruling party has made it stable maintaining that such depicts that if the SLPP led Government continues to be in power, more development will take place in Bombali.
Nfamara Kallon maintained that they as SLPP do not look at tribe or region which is why their motto is "One Country, One People" also stating that the PR System gives them the leverage to have more Honorable Members of Parliament to advocate and lobby for the people for more development and to advocate for the party in Parliament.
He informed them that the Constituency needs a very sound Honorable, someone that can defend issues and the party in Parliament as well as nationally and internationally further underscoring how he and others have the character and tenacity to exactly do that.
Nfamara Kallon motivated the people of Bombali District to have the confidence to exercise their franchise assuring them that there will be security also adding that the SLPP is a law abiding party and how they will protect and give them the security that is needed.
According to him, the current ruling party is the only party that has done so much for education and infrastructure, and according to him, with all the hardship in the world, the country has the cheapest rice in West Africa because of the President's skill in handling the economy further emphasizing that comparatively rice is cheaper and there is fuel.
Nfamara Kallon, who intimated this medium that he decided to sacrifice some of his engagements and responsibilities in order to have ample time to throw his hat in the ring purely out of the avowed objective of providing sound and fruitful representation and leadership for his constituents, is a graduate from Birbeck Law School, University of London and holds a LLM Master's Degree in Public International Law from the Grotus Center of International Legal Studies, Lieden University, the Netherlands and is an adviser on direct Foreign Investment and International Dispute Settlement.
He served as Deputy Director of Legal Affairs for local and international agreement contracts at Universal Access Development Fund (UADF) to Sierra Leone and also served as a Guest Lecturer at UNIMAK on the topic: 'International Law, Transitional Crime, Terrorism and Diplomacy – Public Lecture.'
Nfamara also has a successful business with a staff strength of 115 people in Sierra Leone and is game changer in any situation he finds himself.
He is the Founder/Chief Executive Officer (CEO) of Salisu Investment & Logistics which is responsible for transporting the oil and gas products for All Petroleum Products (SL) Ltd.
Also, he is the Chairman of Romix4KD Engineering Consultant Company for Road Solutions.
Currently, he is serving as the Strategic Campaign Director and Chief Coordinator for Mohamed Gento Kamara, who is the leading Mayoral aspirant for the Mayoral Position in the Freetown City Council ,of which he has no doubt they will clinch come 24th June 2023.