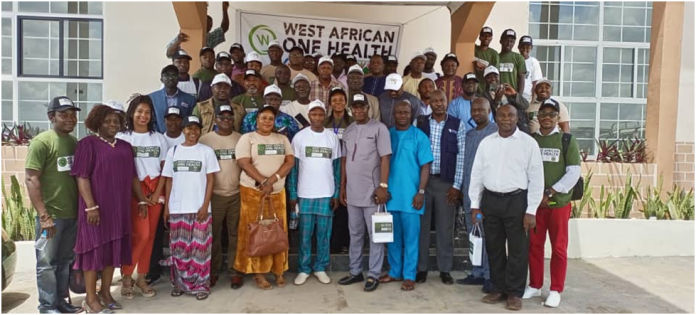 By Jonathan Hindolo Kurabu, D Catalyst
The official launch of the Njala University West African One Health was done at Galliness Paradise Hall in Bo on the 29th July, 2022 and was witnessed by health practitioners, partners and academics drawn from different walks of life in Sierra Leone, Liberia, Nigeria and Guinea
Welcoming the galaxy of dignitaries present, Deputy Registrar of Njala University, Bo Campus, Anthony Habib Kamara, thanked all for gracing the project launch describing it as an epoch-making event in the history of One Health amid the herculean tasks posed by the accompanied effects of zoonotic diseases.
Chairperson for the ceremony, cum Deputy Vice Chancellor, Njala University, Njala Campus and Vice-Chancellor designate, Professor Mohamed Bashiru Koroma, on behalf of the University and all health practitioners, commended , Professor Rashid Ansumana and team for their collective strides in securing the grants from the International Development Research Centre (IDRC) in Canada amidst competitive elimination screening phases among 45 top-notch research institutes across the globe out of which, four (4) Research Projects were selected.
Professor Mohamed Bashiru Koroma expressed optimism for a smooth sail of the project evidenced on traceable benchmarks by the Project Coordinator and other research project grants that have been successfully implemented in Njala University adding that "Njala University is now moving in the Direction of the New Direction".
Project Lead from Njala University, Professor Rashid Ansumana, who also doubles as the Dean, School of Community Health said recognizing prevalence of outbreaks related to Zoonotic diseases in the wake of pandemics where nations scramble to assemble teams to respond to the outbreaks which often takes time and a devastation to the medical structures  as evident in the Ebola  menace, the West African One Health, a consortium of researchers from Sierra Leone, Nigeria, Guinea and Liberia seeks to underscore the menace of the triple threats-Ebola, EVD and Lassa Fever using the model titled,  "West Africa One Health Actions for Understanding Preventing and Mitigating Outbreaks"
The objectives of the three years Project and a budget line of 4.3 M CAD for all participating countries according to Professor Rashid Ansumana are to: Assess the relationship between changing demographics, gender-equity, land use change and emerging diseases in West Africa, using gender-sensitive socio-ecological systems research.
It is also geared towards investigating the impacts of EVD, Lassa Fever and COVID- 19 on access to health for humans and animals, environmental health, livestock food security and socio-cultural practices by exploring the effects of gender equality and determining innovative approaches to improve gender equality.
Also, to develop and/improve, using gender-mainstreaming, Community Action Groups for Community Participatory animal disease surveillance, and Community Participatory human diseases surveillance and finally to explore zooanthroponoses (reserve zoonoses) in a COVID- 19 infected rural and urban West African Community.
The National One Health Technical Coordinator, Joseph Bunting -Graden lauded Njala University and its partners for such a historic milestone adding that since the launch of the One Health Platform, Sierra Leone has made strategic progress in establishing frameworks that guides and enhances inter-sectoral and interdisciplinary collaboration in addressing and re-emerging infectious diseases be it zoonotic, AMR, Chemical events or likes of these.
He said most of the human emerging infectious diseases in the world have arisen from animal sources which thus require a major intervention and productive potential to work on the relationship between the human surveillance systems and the animal health surveillance systems thus also presenting a glaring need for increased laboratory capacity.
Joseph Bunting -Graden averred that approximately, 75% of emerging pathogens are zoonotic; microbes with tendencies to mutate with each replication cycle. The ability to replicate and mutate, according to him, gives the advantage of selectively circumventing human interventions be they antimicrobials, vaccines or public health measures reiterating that such an inevitable situation poses an increasing threat to human survival and changing characteristics of pathogens triggered by change(s) in the environment.
One of Sierra Leone's youngest and decorated researchers, Professor Alhaji U. Njai, from the College of Medicine & Allied Health Sciences, University of Sierra Leone, described One Health as an integral component of health systems albeit not a new phenomenon in Africa where the African culture has since time immemorial lived in harmony with animals and humans but however stressed the relevance of the social component of One Health describing it as social determinants for One Health-Structural Violence, social epidemics and prioritization of diseases.
In his keynote address, Resident Minister South, Mohamed K. Alie said the New Direction regime under the hegemony of President Julius Maada Bio prioritizes health systems which unarguably is one of the major and plausible reasons why they were able to reduce the menace of COVID- 19.
He pledged Government's unflinching commitments towards the One Health Approach.
Meanwhile, statements were made by representatives from Ministry of Health and Sanitation, Ministry of Agriculture, Partners in Health, AFENET, Njala University One Health Coordinator and Simeon Cadmus from the University of Ibadan in Nigeria.
One Health is a collaborative, multi-sectoral, and trans-disciplinary approach—working at the local, regional, national, and global levels—with the goal of achieving optimal health outcomes recognizing the interconnection between people, animals, plants, and their shared environment.