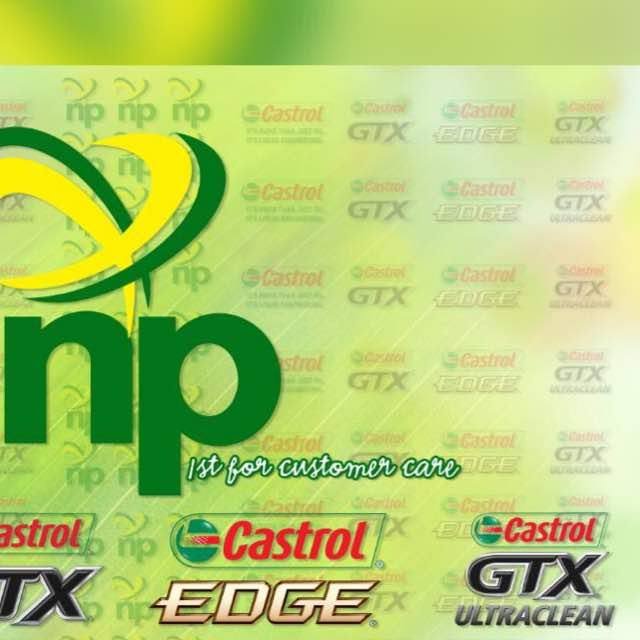 Whilst providing fuel to enhance transportation across the country, the National Petroleum is also interested in maintaining the standard of vehicles on the road and ensure the safety of pedestrians, passengers, drivers and owners. In this vein, it has on offer, several lubricants of high quality for vehicles.
Engine oil for heavy duty vehicles and machines (diesel) are available, whilst engine oil for jeeps and other types of vehicles of both petrol and diesel are also available for sale in their different outlets. These lubricants are developed with the right formula to meet the needs of the engine specification. This is made possible by the professional work of its engineers, under the watchful eyes of it able Managing Director and team. With expert technicians, NP has been able to provide this service for its numerous customers.
In this age of technological advancement, NP has not been left behind. With expertise in technology, the company has improved on its service delivery to customers. It now has a Sim Card for fuel. With this sim card known as NP Smart Card, its customers can purchase any amount of fuel they want. Customers have a stipulated amount of fuel on the card in accordance with what they had paid for (a pre-paid system). Thus the customer has a choice to request for a lesser quantity of fuel as he so desires or take the whole total of what is on the sim card. Presently, apart from private customers patronising this system, International organisations, Banks and certain government institutions, including the Judiciary, have these sim cards. This system alleviates the long process of dealing with LPOs as done in the past. Drivers in such institutions can now easily access fuel from the fuel station with the production of the sim card, which is then run through a small device and service is rendered quickly without any itch.
As far as customer care is concern, NP-SL Ltd, has the most exemplary service to its customers. Smartly dressed, its pump attendants exude the quality service that the company is known for. Politely talking to its customers and directing them to the various pumping points, they deliver a service that is exceptional in that field. In its determination to serve the public, NP offers the exact litre quantity for its products, thereby attracting many customers, including commercial drivers to its stations. Mohamed Kamara, a taxi driver, maintained that he buys fuel from NP because their quality and quantity are good and cannot be compared to any in the petroleum industry.
Whilst the above are concern with transportation, the National Petroleum realises that there is a need to cater for the domestic needs of people with the introduction of the eco-friendly NP Gas. NP notes that cooking is part of human activity and it takes different forms. In this country, because of poverty, the vast majority of the citizenry rely on traditional and archaic means of cooking such as using fire-wood and charcoal. But the effect of the use of such practices have endangered the environment, prompting environmentalists to raise alarm about the hazards that deforestation and inhalation of fumes from coal can cause to human health. The introduction of NP Cooking Gas is geared towards providing a better alternative, which is environment friendly.
These NP Gas Cookers are readily available in the company's different filling stations and are going for affordable prices. Most of those that were interviewed by this medium disclosed that the cookers are very user friendly and good to be used for various cooking purposes. "We derive optimum satisfaction in using our NP Gas Cooker as it is very fast and reliable," Mariatu Kanu said with a big smile on her face, adding that accessing gas to replenish used stock is very easy at NP filling stations.
One Chief Executive Officer of a reputable insurance company intimated that he finds it convenient to buy provisions at a NP mini mart, adding that since accessing the other supermarkets in town has proven difficult due to lack of parking space, NP-SL provides the perfect alternative to them, especially as what is desired is also available at the mini-mart.
NP-SL Ltd has bagged certain accolades on various fronts.
The company is held in high regard for availing Sierra Leoneans job opportunities, which have somehow helped in drastically reducing the unemployment rate in the country. If this country were to have had similar businesses owned by purely indigenous shareholders, then the problem of unemployment would have long been a thing of the past.
The origin of NP is very fascinating and very inspirational.
It goes like this; that British Petroleum (BP) Company decided to sell its shares to the Government of Sierra Leone that was in existence at that time.
In 1996 the Government sold its 60% shares in BP to some of the company's members of staff. 55 % was paid upfront from the end of service benefits of the workers from BP and the 5% offered to all the other workers. Thus a new company known as LEONEOIL started operations.
It was the World Bank that proffered advice for the privatization of the company. The 55% sale of Government shares to NP therefore came as a result of the World Bank's admonition. 4 companies took part in the bid, but it was LEONOIL that won the international competitive bidding that was conducted by Arthur De Little (a United States based Management consultancy firm). LEONEOIL later on metamorphosed into NP, meeting all the set criteria.
It was understood that the members of staff were very serious and capable enough to properly manage the company to such an extent that, unlike others, it survived most of the challenges that it had encountered.
It was learnt that the 40% PMMC's stake in the company, owned by the late Jamil Sahid Mohammed and Tony Yazbeck, was given as collateral for a loan from a Bank by one of the parties.
Jamil Sahid Mohammed, later sold to Cape Oil PMMC's 40% shares to offset a fidelity loan, but LEONE OIL was not satisfied with that move and took the matter to court on the grounds that it was in violation of the M and A, which dictates that the other side has the first option to buy. The outcome of the matter was that the High Court gave judgement in favour of LEONE OIL.
Certain people have suggested that the Government and other stakeholders must give NP all the necessary support it deserves to make it further formidable and highly competitive.
But what for now is very certain is that NP-SL Limited has the safest cooking device (NP Gas).