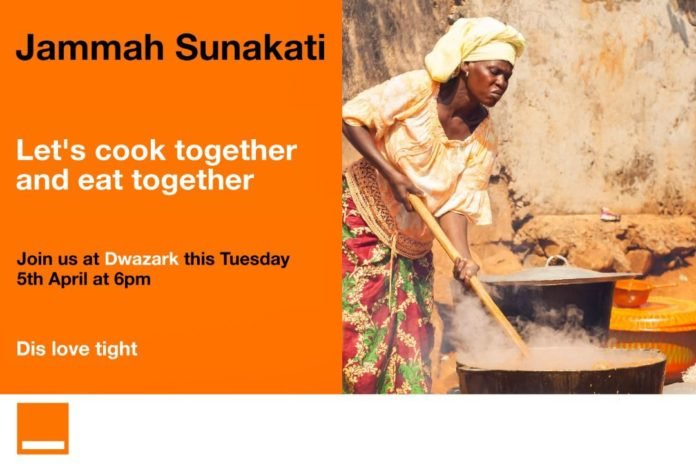 By Foday Moriba Conteh
As part of their unwavering extension of love to the people of Sierra Leone especially Muslims during this month of Ramadan and to be closer to their muslin customers and stakeholders, Orange Sierra Leone has on Tuesday 5th April, 2022 embarked on their usual Iftar sharing exercise tagged "Jammah Sunakati" at the Dwazark Community field.
The Mobile Telecommunication Company of Orange Sierra Leone offered food to Muslims residing within the community as support in their observation of this year's Holy Month of Ramadan.
The company mobilized and funded its staff together with some women residing within the community to prepare a delicious meal for Muslim worshippers.
The gesture is part of Orange's Jammah Sunakati initiative which is targeting communities across the country during this Month of Ramadan and providing food for the residents particularly for those who are fasting. The occasion saw hundreds of people gathered at the Dwarzark playing field to participate in the Jammah Sunakati.
The Marketing and Communication Manager of Orange-Sierra Leone, Martha Sumaila, revealed how the company is doing such out of love and respect for subscribers, and also as a way of giving back to communities across Sierra Leone.
"We are doing this out of love and respect for the community residents," she said.
The Jamah Sunakati saw community people, young and old bond together while ending their fast after the evening prayers. Residents in the community said this is the first time that a corporate institution has done such for their community.
Martha Sumaila added that this will not be the end, "Dwarzark is just the first community," she said, adding that Orange has plans to replicate the donation to more communities across the country.
"We are a company that prides itself in giving back and we will continue to do such in other communities in the coming weeks," she disclosed.
The Jammah Sunakati is not the only initiative that is being rolled out by Orange during this Ramadan. Orange has set aside prizes of food items to be given away to customers throughout this Ramadan month.
As part of the promotion, customers will win supply of food items on a daily and weekly basis with a grand prize of 1 year supply of food items. According to the company to qualify for the promotion customers should top up, buy data or do Orange money transactions.
"We want to offer prayers for Orange. This is what Islam teaches – to share. We are happy for this and it is the second time a mobile company like Orange has thought about doing this for us," a community expressed gratitude.