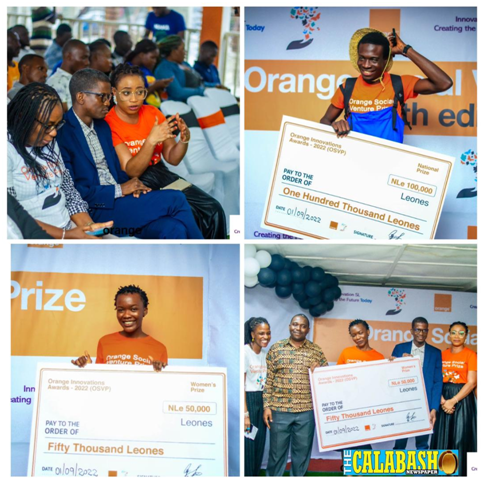 By Abubakarr Harding
The 4th Edition of the Orange Social Venture Prize (OSVP) pitch event took place at the telecommunications company's Headquarters on the 1st September 2022 during which eight (8) finalists participated for the whooping sum of One Hundred and Fifty Million Leones (Le150M).
On that day Orange Sierra Leone presented two young Sierra Leoneans with prizes for emerging as winners in the Orange Social Venture Prize, which was an entrepreneurial competition that encourages the most creative business concepts from young Sierra Leoneans.
Osman Yaah of the Auto-Smart Irrigation and Energy Company Ltd emerged as this year's winner bagging the Le 100,000 National Grand Prize and NL50, 000 went to Safe Space Sierra Leone's Adeola Carew.
In his statement, the Chief Executive Officer (CEO) of Orange Sierra Leone, Sekou Amadou Bah said: "This marks the Fourth Edition of the Orange Social Venture Prize (OSVP) emanating from Orange's position as the go-to digital partner for startups in Africa and the Middle East."
He informed that the OSVP was established 12 years ago with the goal of rewarding the best technological projects that have a positive social impact and provide solutions to pressing social issues, particularly in the areas of education, health, agriculture, mobile payment, and sustainable development in Africa and the Middle East.
The CEO continued that by giving back and touching lives, Orange as a brand continues to have a direct impact on people's lives.
"We adhere to the philanthropic way of thinking," he stated furthering that since the prize's first phase in Sierra Leone, the OSVP has established itself as a household name and a partner of choice for ICT start-ups.
He said in order to boost the project and encourage female involvement; they added an extra award in 2021 maintaining that the incentive offered a technical solution to better the lives and circumstances of women.
Sekou Amadou Bah disclosed that Orange's innovation strategy, which is devoted to offering financial support and putting expertise in the development of new enterprises utilizing ICT, includes the pitch session that took place on the 1st September, 2022.
Osman Yaah, the founder and CEO of Autos Mart Irrigation Company SL Limited, won the $100,000 prize after presenting a creative business idea that enables the use of mobile phones to supply water to farms from any location in the world, resulting in the development of the first digital agricultural irrigation system in Sierra Leone. It is a locally produced alternative that aids farmers in year-round farming via auto-smart irrigation.
Farmers can grow all year round with that approach as they don't need to wait for the rainy season.  Osman maintained that despite having 70% of arable land, we are still unable to feed ourselves. He highlighted that mechanized farming and sustainable agriculture are the only ways Sierra Leone can attain food security and eradicate hunger.
The local and international judges were drawn to Adeola Carew, Founder and CEO of Safe Space SL, as she presented a business idea that aims to change Sierra Leone's culture of silence on reproductive issues and build a community where people feel safe to discuss their issues without feeling shame or stigma and get help finding solutions. She did that by opening a sexual reproductive center and developing a special mobile app to help with the process.
In an interview, Carew claimed, "There is little information about sexual reproduction, teenage pregnancy, and maternal mortality in this country, but if we use technology, it will be simple to access information. For example, if you're being raped, you can easily access a resource point with your phone where you can find contacts for the closest police station and also an expert who will help you fight your case."
In addition to being a poet, writer and sex-positive campaigner, Carew is a creative entrepreneur.