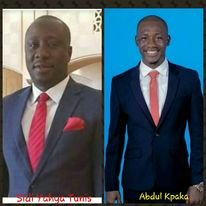 By Foday Moriba Conteh
During a Press Conference convened by the Center for Research, Peace and Youth Affairs-Sierra Leone (CRYPA-SL) on Wednesday 20th January 2021 at its Old Railway Line Office, Tengbeh Town in Freetown, the Executive Director, Abdul Kpaka of the organization vehemently refuted a statement made by the Acting National Publicity Secretary of All People's Congress (APC) Party, Sidi Yahya Tunis's  on AYV TV (AYV on Sunday) on the 3rd January 2021, asserting that "nobody needs peace and conflict graduates".
According to Kpaka the above statement is totally misleading, false and demeaning to peace and conflict graduates and all those who have worked tirelessly to develop the said curriculum in the academia. He also maintained that it was an unfortunate statement especially when Peace and Conflict Studies serve as a professional tool for the prevention, management and resolution of conflicts adding that the above statement also depicts deep disrespect for peace and conflict institutions in Sierra Leone and beyond, the United Nations inclusive.
Abdul Kpaka pointed out that the meaning of Peace is deeper than what most people perceive, and that ignorance and lack of research has led to so many misconceptions about the concept of peace; especially peace and conflict as an academic discipline, further explaining that studying peace without conflict is baseless as the study of peace is principally geared towards the prevention and management of conflict and the attainment of sustainable peace and human security.
He revealed that CRPYA, being a Peace promoting NGO, deemed it fit to react to the unfortunate statement made by Sidi Yahya Tunis, with a view to address his blatant misconception of peace and conflict studies and as well prevent the public from being misled.
Kpaka elucidated that Peace, Conflict and its related matters occupy the center stage of world discourse than any other phenomenon in this 21st century. He stated that after the end of World War II in 1945 new wars started emerging (intra State conflicts) where people within States rose and rebelled against their leaders or Governments because they failed to provide for their needs.
He described Peace and Conflict as a Social Science discipline that focuses on the analysis of violent and nonviolent conflicts, drawing from numerous fields such as Law, Political Science, Media Studies, Sociology, Chemistry, Economics, History, Theology among others, furthering that Peace and Conflict is both a pedagogical and a research based discipline and that its intent is to probe into issues of structural and physical violence, ensure the prevalence of human security and sustenance of positive peace rather than negative peace.
Kpaka noted that Positive Peace unlike Negative Peace do not only consider the absence of physical violence or the silence of the guns as peace, rather, it focuses on the structures, such as Ministries, Departments and Agencies, NGOs and CSOs, humanitarian organizations, the Fourth Estate and all other agencies that sum up what constitute State and global governance.
He revealed that the many conventions and treaties which the whole world works with today are creative ideas of peace and conflict experts and other professionals, adding that the Millennium Development Goals (MDGs) which later evolved into Sustainable Development Goals (SDGs) serves as guidelines and timetable for the whole world and it must interest all to know that the current SDGs are typical conflict prevention mechanisms and human security pillars which aim at maintaining positive peace globally.
The Executive Director said Peace and Conflict being a hybrid discipline constitute unique and universally useful modules such as Governance and Democracy, Human Rights and Good Governance, Peace Education, Peace Studies, International Humanitarian Law, International Law, Media and Peace Building, Gender and Development Studies, Conflict Resolution, Human Security, etc.
He disclosed that Peace and Conflict Studies is offered in more than 4000 universities, colleges and institutes around the world and it has job opportunities in State governance, project management, the media, international and global architecture; UN, regional, and sub-regional organizations, in the academia, industries, security sector and the Judiciary.
Kpaka furthered that from all indication, Tunis' assertion that "no body needs peace and conflict graduates" is false, baseless and unfounded and that for such a statement to come from the mouthpiece of a responsible political party like APC is unfortunate to say the least.
"We at CRPYA view such statement as one that has the propensity to derail the efforts made by hundreds of graduates who have acquired a degree or certificate in the said field. It will also undermine the good work of the University of Sierra Leone, Milton Margai University, Njala University and other institutions in Sierra Leone offering Peace and Conflict Studies," he stated.
He highlighted that the attack on Peace and Conflict Studies has been consistent by politicians and notable among those who have once opposed it are Alpha Khan, former Information and Political Affairs Minister, Dr. Kandeh Kolleh Yumkella, former flagbearer of NGC party and now Sidi Yayah Tunis the National Publicity Secretary for the party APC and that whatever their intentions are they can't justify but they strongly demand that it must be stopped immediately.
Kpaka says they are demanding that the APC Publicity Secretary, Sidi Tunis, to immediately withdraw his unfortunate statement and tender an unreserved apology to all Peace and Conflict Studies graduates as well as academic institutions offering Peace and Conflict Studies.
"We will end by saying that opposing Peace and Conflict Studies or anything that has to do with peace is equivalent to discrediting and attempting to destroy the very basis on which society is built," he ended.