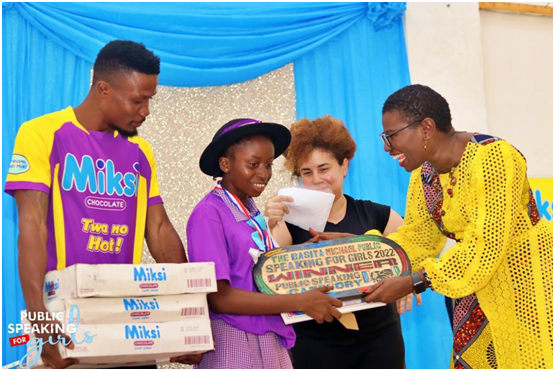 By Abubakarr Harding
The Patriotic Advocacy Network Sierra Leone (PAN-SL), has on Saturday the 29th October, 2022 staged the grand finale of The Basita Michael Public Speaking for Girls on the theme: "Digital Generation, Our Generation."
The grand finale of the competition was hosted at the Hill Valley Academy Multipurpose Hall, Mambo which featured the participation of twenty girls who participated in the Public Speaking, Spoken Words, and Music Categories.
In her opening statement, the Chairperson of the Board of Directors of PAN, who doubles as the Lead Project for The Public Speaking for Girls, Patriot Janet S. Kallon said that in celebrating this year's International Day of the Girl Child, PAN SL and partners recognized it with the 2nd Edition of Public Speaking Training, Career Building and Competition for Girls who are attending various secondary schools in the Western Area Rural and Urban. She said that PAN is a nonprofit making organization that is operating across Sierra Leone with a large membership of over 1,500 and has chapters in all major schools in the country.
In her statement, the Principal of the Hill Valley Academy, Madam Zainab Kamara threw light on the background of her school which was established in 2018 with the Motto: "Together We Can Achieve The Extraordinary".
She welcomed all and sundry to the prestigious school; Hill Valley Academy stating that they encourage a sense of responsibility and they will continue to support initiatives that aim to build a better Sierra Leone.
Giving the Keynote Address, Sierra Leone's Attorney and Advocate, Basita Michael stated:"I was so humbled to be given the opportunity by the Patriotic Advocacy Network to serve as the keynote speaker. The first thing I did was to look at the theme: Digital Generation, Our Generation".
How many girls in Sierra Leone have access to Information Communication Technology (ICT) and How many girls have the requisite skills and knowledge to effectively operate ICT??? Basita asked.
She said that it is time we close the gender gap in Sierra Leone and give access to digital generation.
"I have observed in many campaigns, they are just emphasizing on education, it's time we focus on the access of technology," she stated.
She reaffirmed that to create Sierra Leone no one should not be left behind, we can all have access to the digital world, "let us make a digital world in Sierra Leone for reality.
Certificates were given to the twenty schools that participated in the entire competition, all the sixty (60) girls who competed were awarded and medals and cash prizes were given to the best three from each category.