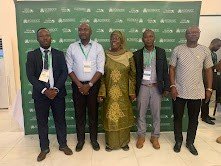 By Millicent Mannah
A partnership has been formed among the African  Union Economic, Social  and Cultural Council, (AU ECOSOCC) and the Independent  Commission  for Peace and National Cohesion, the ECOSOCC National Chapter  and Campaign  for Human Rights and Development CHRDI, with support  from the  European Union through Expertise France, to hold  a stakeholder's dialogue  in preparedness to deliver a free, fair and incident-free elections for the people of Sierra Leone.
These institutions will  use the opportunity  to promote social cohesion by providing  an inclusive  space to  convene key  actors of  Government  and Civil Society  as well as religious leaders both at regional  and national levels  to facilitate  platforms of engagement  and forums  for solutions in order to support  concrete initiatives on the ground.
Speaking at the occasion,  ICPNC' s ,Deputy Executive Secretary, Moses Margo, said the dialogue session  will provide an opportunity for all stakeholders to share ideas and collaborate in creating a conducive  environment for a successful election.
He noted that while elections are an integral part of the democratization process, if marred by violence, intimidation or fraud, they can undermine the very essence of democracy and destabilize a country.
He noted that Sierra Leone has had four successive peaceful elections and two transfer of power from one political party to another since the end of the rebel war, but that to sustain this trend requires the collective responsibility of all, to not only ensure peaceful, free and fair elections, but to put measures in place to guarantee the safety and  security of all citizens, political parties, elections officials and international observers,
He urged all political parties and candidates to conduct their campaigns with decorum and respect for their opponents, pointing out  that political differences should not be a pretext  for violence or incitement.
"Let us  compete based on ideas, policies and plan to move the country forward," he enjoined and called on Law enforcement agencies to be impartial in the discharge of their duties, and to enforce the law without fear or favour and ensure that anyone who violates the law is held accountable.
"It is vital to investigate and prosecute all cases of election-related violence, intimidation or fraud to serve as a deterrent to others," he stated.
The Deputy Executive Secretary also spoke about what he called the crucial role of the media in promoting peace during elections, urging them to report accurately and responsibly to avoid sensationalism, which has the tendency of inciting violence. He also called on them to provide equal access to all political parties and candidates to air their views and plans for the country.
He further called on all Sierra Leoneans to exercise their right to vote peacefully, pointing out that the actions of individuals during this election would have far-reaching consequences on the future of Sierra Leone.
ECOSOCC will also hold an awareness and popularization workshop with the Sierra Leone Interim Chapter of ECOSOCC, targeting CSOs with mandates in good governance and human rights, build capacity on the African Charter on Democracy, Elections and Good Governance (ACDEG), engage with AU organs and learn about the Early Warning and Response Mechanisms of the African Union.
The objectives of these two activities are to facilitate dialogue between the election management bodies and CSOs and to assess the state of preparedness  for a free, fair and incident  free elections, and as well as  to introduce the newly adopted National Chapter Frameworks  to CSOs.