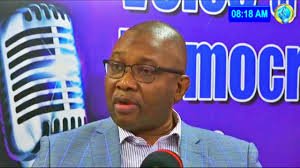 By SLPA Communications Unit
The Sierra Leone Ports Authority has concluded a two-day Board of Directors and Management retreat in Bo. The retreat featured among other things: Management's State of Art Report on the Authority, Departmental Presentations, Procurement Rules and Procedures, Discussions on:  Corporate Governance and Best Practices, Board Structures, Procedures, Duties and Powers and the Relationship between the Board and Management.
The Chairman Board of Directors Hon. Manso Dumbuya, during his opening remarks, said the retreat is to reflect on the past and challenge each other in pursuant with the Board and Management agenda to transform the port.
"We are here to look at and review our existing strategies to improve on efficiency and productivity in the operations of the port."
Chairman Dumbuya furthered that the Board-Management engagement would au fait the Board with the income and expenditure generating activities of each department of the Authority.
On his part, SLPA General Manager, Dr. Abdulai Fofana, while delivering his State of Art report on the Authority within the period September 2018-November 2019, said his management is set to explore the chain of opportunities to further its ability to thrive distinctively, attract more income for government and effectively manage the resources of the Authority with keen interest on institutional development.
On the management of the Authority's resources and financial prudence, Dr. Fofana said his management has increased the Authority's dollar account by 150% (One Hundred & Fifty Percent) while the Leone account has jumped by 40% (forty percent).
He furthered that despite the rebranding of the Authority's corporate image, overhauling the model of doing business and restoring its credibility and effectiveness in doing business, his management undertook several projects not excluding:
Strengthening of security and intelligence unit, thereby reducing crime within the premises of the Authority through training of personnel and provision of relevant security equipment including the International Port Security facility instrument;
Increasing the economic standings of the Authority by frustrating corrupt practices;
Reduces input wastages;
Introduce 24/7 anchorage to support Saturday Customs of NRA Clearance Procedures;
Phenomenal facelift on Port infrastructures including the Administrative Building;
Job Creation on Social Services;
Strengthen our relationship with partners in the maritime industry;
Introduction a Quality Assurance Unit that has improve service deliveries;
Introduced managerial models that now facilitate inter-departmental interactions, build synergy in programs and enhance cohesion among departments.
Dr. Fofana also emphasized that his management would continue to make the Freetown Port ease of doing business, consolidate improvement in the security sector, increase quality, network with external and professional partners in the marine industry and introduce systems that will harmonize the work of the Authority in a gainful way.