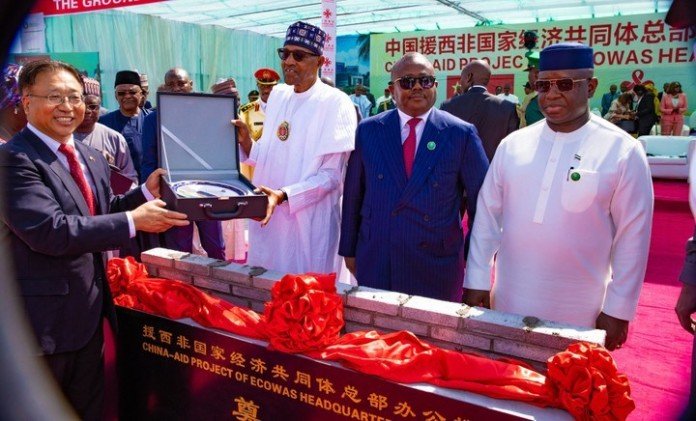 President Dr Julius Maada Bio returns to Freetown on the 5th December, 2022 after a successful meeting of the Authority of Heads of State and Government of the Economic Community of West African States ( ECOWAS) that swears in the new President of the ECOWAS Commission and discusses governance, peace and security and other reports.
At the opening of the Sixty-Second Ordinary Session of the Authority of Heads of State in the ECOWAS, he took part in the swearing-in of the new President of the ECOWAS Commission, His Excellency Dr Omar Alieu Touray, the Gambian diplomat and development professional, who was appointed by the ECOWAS Authority of Heads of State and Government on 3 July 2022.
In his acceptance speech, Dr Touray presented four strategic objectives to include enhanced regional peace and security; deeper regional integration; good governance and inclusive and sustainable development as well as two enablers – capable institutions and equitable partnership.
The closed-door session also had on its agenda the 2022 annual report on the state of the Community, special reports of the ECOWAS single currency, a memorandum on the high-level mission of Heads of State to the Republic of Mali, date and venue of the next ordinary session and most importantly the draft declaration on the reform of the Security Council.
It is important to note that President Julius Maada Bio, as Chairperson of the African Union Committee of Ten (C-10) on the reform of the United Nations Security Council (UNSC) continues to provide leadership on such platforms as the ordinary session of heads of state and government.
It could be recalled that in his report, on the efforts of the C-10 in Addis Ababa, Ethiopia, on 6 February 2022, he made a stronger case to reform the UNSC, emphasizing at the time that although they had made progress, by embarking on a number of high-level consultative meetings, including the Summit of C-10 Heads of State and Government and the Meeting of Foreign Ministers, they must also remain steadfast to amplify the call for Africa to have an effective voice in the decision-making processes of the UNSC.