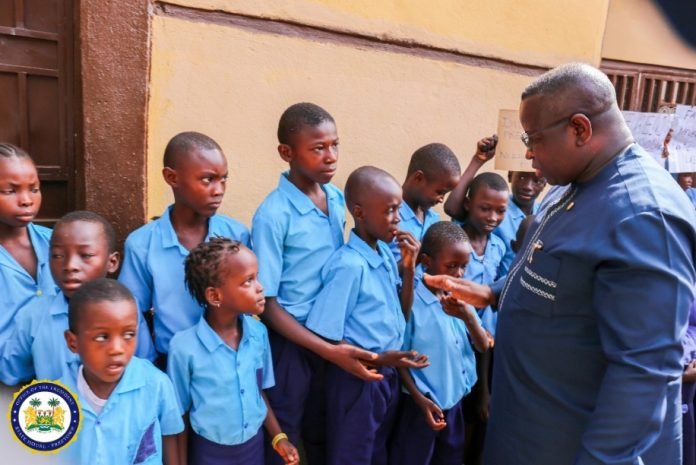 His Excellency President Julius Maada Bio has visited the Network for Children in Need Interim Care Centre, a caregiving home for orphans, neglected and abandoned children at Allen Town, east of Freetown.
During the visit, Proprietor of the Home, Madam Inna Maria Kamara, said she was thankful to the President for visiting the home, saying that that was an indication of the importance he placed on people who look after children, the sick, elderly, or disabled persons. She said the home had faced many challenges, particularly in providing proper housing for the kids and, therefore, called on the government to provide the necessary support needed to run the home.
Minister of Social Welfare Gender and Children's Affairs, Madam Baindu Dassama, said vulnerable children were the victims of abuse and neglect. She said her ministry was working to provide psychosocial support for orphanages across the country. She commended the centre for their usual acceptance of orphans the ministry had sent to the home.
In his comment, President Bio expressed appreciation to the management of the home for their support to the kids and thanked the community for their support to the orphanage. He said it was a responsibility of the government to ensure that the kids get proper care. He said his presence at the home was an indication of his recognition and acknowledgment of the good work the home was doing to provide care for the vulnerable in society.
"Every child is important to this government. We are here to show you all that we love and value you. We want to let you know that we recognise what you do and we are ready to support you. We know the challenges you face but we want you all to know that there is a brighter future ahead of you. I encourage you all to focus on your studies as with education you can achieve your full potentials," he said.