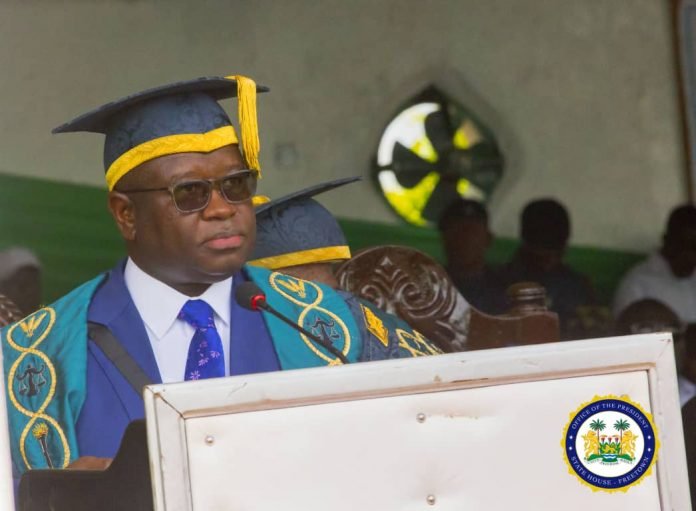 Njala University, Mokonde, Saturday 13 April 2019 – His Excellency President Julius Maada Bio, who is Chancellor of Njala University, has challenged graduands at this year's convocation ceremony in Makonde, south of Sierra Leone, to be bold, innovative and enterprising.
"I want to use my swan song as Chancellor…to make Njala University and its graduates relevant, if not indispensable, to the national development of Sierra Leone. Great expectations await you, our graduates. Soon, you will be breadwinners and financiers for every family or community-related problem.
"Do not despair. You are off to a good start. You have achieved what fewer than 10% of your compatriots have ever achieved. You have achieved what fewer than 10% of those with whom you entered primary school have ever achieved. You are a winner. You are victorious. You are the few of the many. Let us give each one of you a rousing round of applause on your success," he said.
President Bio said his government had put in place a favourable ecosystem for the private sector to grow and made the registration of businesses easier, adding that they would continue to expand on access to start-up financing and invest in capacity building and skills training.
He also disclosed that they were looking at developing a one-stop body in the investment board that he and Vice President Dr. Mohamed Juldeh Jalloh co-chair, assuring the gathering that the government considered those as valuable prospects for value chain addition and services in various sectors.
"There are strong opportunities in innovation and technology, especially in scaling and applying technology for private sector growth. So, to the graduates, the future is bright if you make those bold choices about what next and where you want to be.
"But we also must address the big questions about the future of Njala University as an institution. For me, Njala University is an incubator of excellence. The question, therefore, would be, 'How do we make Njala University even more relevant to the development of Sierra Leone? What practical steps should we take?'" he said.
Vice Chancellor and Principal of the Njala University, Professor Abdullah Mansaray, said this year's congregation, themed: 'Investing in Human Capital for Innovative Transformation' was informed by a deep realisation that the old ways of doing things could no longer suffice in addressing the contemporary challenges of development.
He said they were fully convinced that the entire country's education system must be reconfigured, and quickly too, to foster innovative transformation.
He said since he assumed office last year the priority had been to quickly innovate around management structures and make them more capable of generating and sustaining a conducive environment for learning and career development, generating and disseminating knowledge for development. He added that they were also effectively engaging communities as part of their efforts at restructuring that would lead to the establishment and operationalisation of the Directorate of Academic Planning and Quality Assurance, the Directorate of Research and Development and the Njala University Enterprises.
"My administration feels very fortunate to be at the helm of affairs of this great University at a time when we have a Government whose development strategy is centred on human capital development. Our hopes are being sustained by the recent restructuring of the education sector, leading to the establishment of a Ministry of Technical and Higher Education and the Directorate of Science, Technology and Innovation.
"Our University has quickly embraced new strategies for academic quality assurance to address outstanding compliance issues and put the University on a trajectory of continuous improvement. We are committed to setting our standards above the national average to ensure that our University maintains its national prestige while progressively improving on its global ranking," he said.