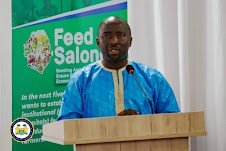 By Foday Moriba Conteh
As part of his efforts towards enhancing visibility around the President, His Excellency Dr Julius Maada Bio, his vision and priority agenda, the Press Secretary, Solomon Jamiru Esq. convened a maiden Press Conference on Friday 11th August, 2023 at State House in Freetown.
Bringing together Editors, Station Managers and Senior Media figures in the conference room of State House, the Press Secretary urged the media to actively cover and analyze the implementation of the Government's five significant game-changers: Feed Salone, Human Capital Development, Youth Employment Scheme, Public Transformation, and Tech and Infrastructure.
Conveying the President's gratitude, Solomon Jamiru commended the people of Sierra Leone for their extensive participation and conduct during Polling Day. He further extended commendation to ECSL, other Election Management Bodies, the security sector, local and international observers, development partners, and all those who supported the June 24 multi-tier elections, which were hailed as the most peaceful since the first post-conflict election in 2002.
The Press Secretary reaffirmed President Bio's dedication to furthering the progress achieved in the past five years that relates to freedom of expression, press freedom and the broader promotion and protection of civil and political rights.
He said that President Bio's cabinet is expected to be one of the youngest in Africa, stating that the increased representation of women fulfills the vision outlined in the Gender Equality and Women's Empowerment Act and that the composition encompasses all regions of Sierra Leone furthering that the Cabinet's diversity is acclaimed both domestically and internationally.
The Press Secretary concluded by drawing the attention to Sierra Leone's participation in the two Extraordinary Sessions of the ECOWAS Authority of Heads of State and Government, which focused on the political situation in Niger.