Press Release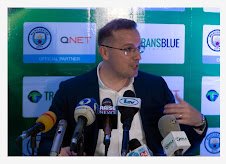 QNET, an international lifestyle and wellness-focused direct-selling company, has partnered with Manchester City Football Club to provide a unique opportunity to young African footballers. The "Man City Football Clinic" program recently identified 26 young and talented players from disadvantaged communities and gave them access to world-class training and coaching, led by Nigerian football legend Johannes Bonfrère, in the heart of Nigeria's Ogun State. QNET plans to introduce similar programs in other parts of West Africa in the near future.
Trevor Kuna, Chief Transformation and Reputation Officer at QNET, said, "At QNET, we believe that sports are more than just a game – they teach important values like teamwork, discipline, and perseverance. These are values that are at the core of our brand. That's why we're proud to have collaborated with Manchester City to bring this unique opportunity to the youth in Africa, regardless of their background. Our aim was to empower them to achieve their dreams and help them develop into confident, well-rounded individuals."
The program selected 26 players under the age of 18, from six states in Nigeria, to participate in five training sessions, with one organized match to assess their capabilities.
According to Johannes Bonfrère, "As a coach with a deep passion for nurturing young talent, I believe that this football clinic is a major step that holds tremendous potential for the future of football in West Africa," he said. "It provides a platform where aspiring footballers can receive extensive coaching, refine their skills, and develop a deeper understanding of the game. I am confident that this initiative will play a crucial role in shaping the next generation of football stars."
For young players like Ajayi Emmanuel, aged 16, this was a once-in-a-lifetime opportunity. "It was like a dream come true for me. A Premier League football club clinic where a world-class Olympic coach personally trained me, I am grateful to God, QNET, and Man City."
As part of its ongoing commitment to developing young talent from underserved communities, QNET has arranged similar programs in collaboration with Manchester City Football Club for talented players from Indonesia, Turkey, Malaysia, Thailand, Kazakhstan and several African countries.  The last such program, arranged before the pandemic in 2019, offered young players from Ghana, Ivory Coast and Cameroon a fully paid 2-week trip to attend the Manchester City Football Training and Language School at the City Football Academy in Manchester, United Kingdom. QNET has been officially designated as the direct selling partner of Manchester City Football Club since 2014. Additionally, in Africa, QNET is serving as the direct selling partner of the African Club League Championships, which are conducted by the Confédération Africaine de Football (CAF).
– Ends
About QNET
QNET is one of Asia leading direct-selling companies offering a wide range of health, wellness and lifestyle products that enable people to live better lives. QNET's grass-roots business model, fuelled by e-commerce, has helped empower millions of entrepreneurs in nearly 100 countries worldwide.
Since its inception 25 years ago, the company has operated a unique business model that allows individuals, including women, to start their businesses and earn an income by selling the company's products.
QNET is headquartered in Hong Kong and has a presence in more than 25 countries worldwide through subsidiaries, branch offices, agency partnerships, and franchisees.
QNET is a member of the Direct Selling Association in several countries, the Hong Kong Health Food Association and the Health Supplements Industry Association of Singapore, among others.
QNET is also active in sports sponsorships around the world. Some more prominent partnerships include being the Direct Selling Partner of Manchester City Football Club and the African Club League Championships of CAF.
For more information, please visit QNET at: https://www.qnet.net/'