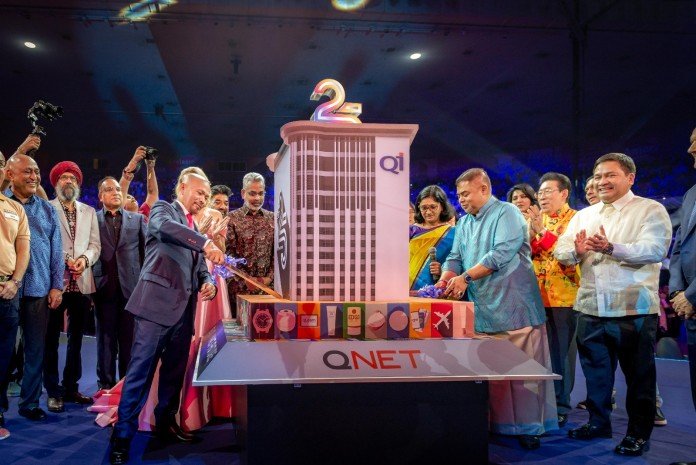 By Amin Kef Sesay
The V-Convention 2023, celebrating the 25th anniversary of QNET, commenced on Friday, September 8, 2023, at Penang's SPICE ARENA Convention Centre. This monumental event is set to unfold over two sessions, from September 8th to the 12th, and then again from September 17th to the 21st, 2023. With a capacity to host 12,000 attendees, this year's V-Convention promises to be a remarkable experience.
For a quarter-century, QNET has been on a transformative journey, and V-Malaysia 2023 is the pinnacle of this extraordinary legacy. It reflects QNET's unwavering commitment to delivering exceptional lifestyle products globally, empowering individuals, and catalyzing positive change on a global scale.
The event features captivating exhibitions that illuminate QNET's vibrant history, providing attendees with immersive product experiences at the QNET Carnival. Experts are on hand to provide insights, offer hands-on product experiences, and unveil exclusive merchandise and special promotions.
Chief Pathman Senathirajah, Director of Marketing and Sales, passionately encouraged attendees to reflect on QNET's incredible journey. He underlined the remarkable transformation of the company from its founder's humble beginnings into a global powerhouse.
Amidst the festivities, a birthday cake was ceremoniously cut, adorned with the theme "Legacy Impact, Future," commemorating QNET's 25th anniversary.
Founders, Dato Sri Eswaran and Joseph Bismark took to the stage to share profound insights, urging attendees never to surrender to adversity. Dato Sri Eswaran introduced his wife, Datin Sri Umayal Eswaran, an influential figure behind initiatives such as Taarana School for children with special needs and the Maharani Camp, which has positively impacted thousands of girls in Malaysia.
Dato Sri Vijay Eswaran, the visionary founder of QNET, delivered a compelling discourse on the company's resolute commitment to gender equality and empowerment. He underscored QNET's dedication to bridging the gender gap by allocating a portion of the group's revenues to the RYTHM Foundation, the Corporate Social Responsibility arm of the QI Group. Dato Sri emphasized the critical role of men in actively promoting equal opportunities in both the workplace and at home.
QNET's commitment to gender equality shines through its corporate structure, boasting a workforce where 46% are women, with 43% in managerial roles and 30% represented on the board.
YB Wong Hon Wai, Penang State Tourism Minister, extended a warm welcome to the event's distinguished guests, including Dato Sri Vijay Eswaran and Joseph Bismark. He acknowledged the presence of over 12,000 delegates from more than 50 countries, highlighting the event's positive impact on Penang.
Wong Hon Wai underscored Penang's role as the backdrop for V-Con, a city where visionaries, entrepreneurs, and leaders converge for inspiration and enlightenment. This year's theme, "Touching A Billion Hearts," epitomizes the power of unity within the global community of entrepreneurs.
Wong Hon Wai encouraged delegates to seize the opportunity to immerse themselves in Penang's rich culture, savor its diverse culinary offerings, and explore its breathtaking natural beauty.
The convention boasts an array of activities, including training programs led by industry experts, motivational seminars featuring accomplished speakers, and a mega-exhibition showcasing QNET's lifestyle and wellness products.
Penang, acknowledged by UNESCO as both a World Heritage Site and a Biosphere Reserve Site, has evolved into an international city, a favored destination for investors, and a top choice for tourists.
In closing, Wong Hon Wai expressed heartfelt gratitude to the delegates for selecting Penang as the venue for this momentous convention. He encouraged all to make the most of their time in Penang and wished for an unforgettable and enjoyable experience.
The V-Convention 2023 is set to be more than an event; it's a vibrant community of kindred spirits converging to celebrate 25 years of success and chart a future filled with promise.
The opening ceremony concluded with a spirited concert, captivating dance performances, and motivational speeches, creating an electrifying atmosphere that sets the stage for the exciting days ahead.