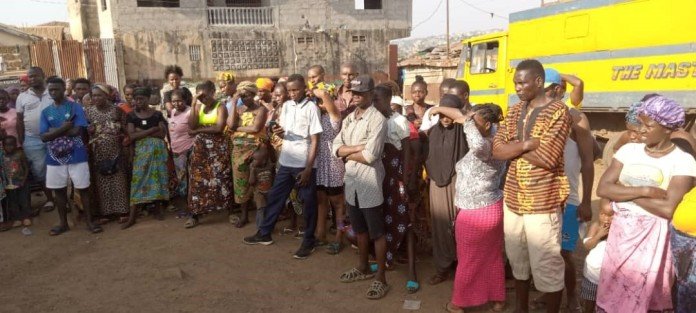 By Foday Moriba Conteh
The Sierra Leone Red-Cross Society on Friday 20th January, 2023 donated hygiene kits worth millions of Leones to over two hundred affected victims of the Funkia fire disaster that occurred on  December 25, 2022.
The inferno left thousands homeless with properties worth millions of Leones completely burnt down.
Over hundred victims received bag packs containing tooth-past and brush, laundering soap, bathing-soap, hand sanitizer and other items.
Speaking at the presentation ceremony, which took place at the Funkia Community, the Director of Human Resources (HR) and Administration of the Sierra Leone Red Cross Society, Mariatu Eliza Kaikai, expressed delight, describing the event as a big loss for the community people who lost their properties in the inferno.
She informed the gathering that the Sierra Leone Red-Cross Society is an impartial, neutral and independent organization whose humanitarian mission is to exclusively protect the lives and dignity of victims of armed conflict and others situations in the country, adding that on the 25th of December, 2022 the team of the Sierra Leone Red-Cross visited the disaster scene and provided immediate basic assistance to protect the victims.
Mariatu Eliza Kaikai stated that they as Red Cross Society teamed up with others partners who are ready to help homeless people more especially women, girls and school going kids.
She went on to state that the organization decided to donate hygiene and dignity kits to the affected victims of the Funkai inferno, especially pregnant women and girls.
She noted that it is disheartening that most of the residents were in pain, adding that the Sierra Leone Red-Cross Society will continue to render other supports, including the reconstruction, cash transfers to help victims regain normalcy.
She noted that they will also support the community with WASH facilities and also engaging them in other relevant issues.
Skeku Fornah, the Goderich Shebureh-town Village Headman expressed delight over the donation by the Sierra Leone Red-Cross Society saying they are the first to answer to the call of the community residents.
He also extended thanks and appreciation to the Red-Cross Society, adding that residents of Funkia community are very happy with the gesture .
Abibatu Kamara, one of the fire victims who is also a beneficiary explained to journalists that she is very happy with what she had received as that was the actual time she need such from Red-cross, adding that everything she had work for burnt down but with the gesture extended she is giving thanks to God.