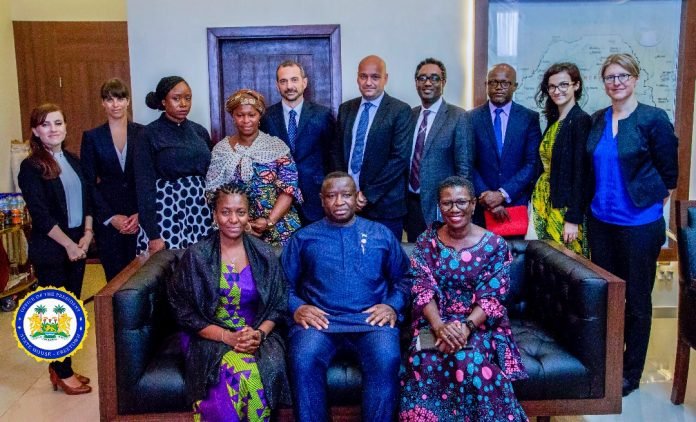 His Excellency President Julius Maada Bio has engaged a high-level delegation from the Swiss Agency for Development and Cooperation, (SDC), led by its Head of Global Programme Water Initiatives, Johan Gély.
The SDC is an office-level agency in the federal administration of Switzerland and a part of the Federal Department of Foreign Affairs. Together with other federal offices, SDC is responsible for overall coordination of Swiss international development activities and cooperation with Eastern Europe, as well as humanitarian aid.
The delegation's appointment, during a courtesy call at State Lodge on Hill Station in Freetown, was aimed at continuing and concretizing the discussions around city twinning and blended finance partnerships, particularly for trans-boundary capital fundraising for support to the sustained delivery of services in the city of Freetown.
Mayor of Freetown City Council, FCC, Yvonne Aki-Sawyer, who chaired the meeting, said she had started discussions with the Swiss group back in 2018 on how Sierra Leone and Switzerland could partner on the issue of water which was key to the Swiss development initiative.
She said the focus of FCC was the preservation of water catchment areas in the ecosystem while looking at where the water was being sourced and used. She said she was very excited about the prospects of a partnership between the two cities in addressing challenges which were unique to both cities.
Head of Delegation, Johan Gély, said they were in the country to promote an initiative called Blue Peace which was a new way of investing in the water sector. He said their visit was also a preliminary fact-finding mission on main sites at the early stage.
He said by working with the FCC they were trying to find out new financial avenues for the water sector, which he noted, that unlike other social sectors was challenged by financing. He said the Blue Peace initiative was looking at ways of getting a multi-sectorial approach, a new paradigm in water financing.
In his response, President Bio said he was excited about exploring new paradigms to solve the perennial problems surrounding water in the country. He said water, being part of human life, was of public good and not only a social issue. He said it was important to get more money to finance water projects, adding that the idea was refreshing. He assured of his Government's support.
Also in attendance were the Minister of Foreign Affairs and International Cooperation, Nabeela Tunis, Manager, United Nations Capital Development Fund, Jaffer Machano, and the Honorary Consul General of Switzerland in Sierra Leone, Noemi Schramm.