On Friday 21st June, 2019 Mohamed Fornah Chief Executive Officer of Blue Line Construction and Investment Limited situated at 94 Bai Bureh Road, in the East end of Freetown launched 10 buses in the Freetown Municipality.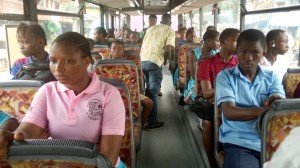 The ten (10) buses will start to ply the routes, five (5) from/to the East and five (5) from and to the West.
From East it will be Jui to Regent Road and from Lumley to Regent Road in the West end.
The project is rolling out a commendable initiative that will ease the transport constraints which school going pupils have been facing to and fro school.
According to Sulayman Condeh the Managing Director of Blue Line Limited Sierra Leone, he said that the Chief Executive Officer Mohamed Fornah is a Sierra Leonean based in the United States of America who saw the need to give back to his country through humanitarian gestures.
He said he decided to make free bus services to school going pupils free of cost.
'The forty buses will convey school going children to and from school in the morning hours onto the evening hours every school day as long as a school pupil is in uniform; he or she will definitely benefit and it is open to both public and private school going pupils,' he maintained.
He noted that the drive is geared towards complementing the Government Free Education initiative, adding that the buses are not only meant for Freetown but will be rolled out to other parts of the country.
Hassan Turay a pupil of Prince of Wales Junior Secondary School thanked Blue Line Limited for this gesture. He said this gesture is not only important to them as pupils but timely.
'This is the first time in the history of this country for us to have free transportation and I believe with this gesture we will no longer suffer from transportation as we used to do in the past,' he noted.
He encouraged his colleagues to make good use of this opportunity in order for it to be sustainable.
Fatmata Bangura a pupil of the Annie Walsh Junior Secondary School said the facility is good and thanked the Blue Line Construction and Investment Company for providing free school buses.
She further stated that transportation has been a big challenge for school going pupils especially those living in the East part of Freetown as in most cases they will be late for school due to transportation problem.
She said that schools hours start as 7: 30am in the morning and sometimes they will be waiting for transportation till 9:00am when classes will already be in sessions.
Mohamed Bangura a parent of one of the beneficiaries expressed his profound gratitude to the providers underscoring that it is not only timely but a humane gesture that should be well embraced.
He said transportation has been a challenge for their children as in most cases they have to give excess money to their children because they have to pay excess transport as most drivers could prefer to stop half way.
He also admonished school going pupils to behave themselves well and ensure that they must refrain from doing things that will destroy the free buses.
He ended by calling on the government of Sierra Leone to support the blue line construction and investment company Sierra Leone limited as they have shown great patriotic towards the country. He also called on other Sierra Leoneans in the diaspora to follow the foot step of Mohamed Fornah in contributing towards the development of the country.
In a related development Blue Line Construction Company and Investment Limited is currently constructing eight bus stops in different locations meant for school going pupils to wait for the buses with the consideration that we are now in the rainy season.
The company is also undertaking construction of a school in Kabala and is also facilitating cleaning exercises in Koinadugu District.
Sulayman Condeh is the Managing Director of the company and he also made very salient points about the gesture.
The Chief Executive Officer Blue Line Construction Company and Investment Limited Mohamed Fornah is poised to do more in terms of development for future generations.