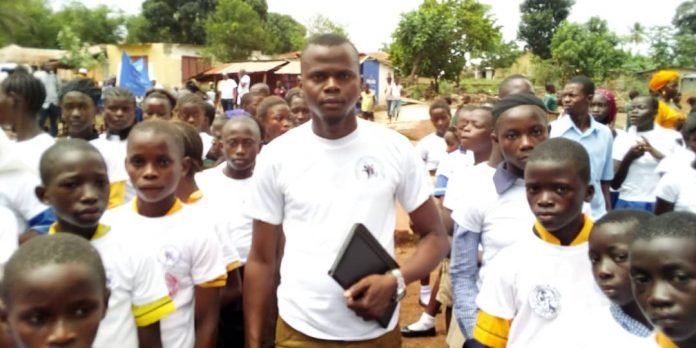 On Sunday 16th June 2019 the Bolingo Children Foundation -Sierra Leone (BCF-SL) commemorated the Day of the Africa Child with the theme: ''The Importance of the Africa Child's Day and the Fight against Early Marriage, Teenage Pregnancy and Domestic Violence'' at the Court Barray in Kamakwie Town ,Karene District.
It could be recalled that 16 June 1976 thousands of black school children in Soweto, South Africa, took to the streets to protest against the inferior quality of their education and to demand their right to be taught in their own language. Hundreds of them were shot down; and in the two weeks of protest that followed, more than a hundred people were killed and many injured. To honour their courage and in memory of those killed, in 1991 the Organisation of African Unity (now the African Union) established the Day of the African Child. The Day also draws attention to the lives of African children today.
Speaking at the ceremony Mr. Laima A.K. Dumbuya Programme Director for the Foundation disclosed that it was established to support deprived and vulnerable children whose parents cannot afford to educate them. He further said they are proud to say that they are presently supporting 168 children within the Kamakwie Township
He further added that the Foundation will not be only based in Karene District as they are working tremendously to ensure that they extend their activities to other parts of the country but called on individuals, institutions to support them.
Joseph K. Turay, a representative from the Ministry of Social Welfare, Gender & Children's Affairs, Karene District, thanked the Foundation and said as a Ministry they believe that one of the ways they can develop the country is by working together to protect the rights of children.
He described the international theme of the commemoration: "Humanitarian Action in Africa: Children's Rights First" as timely and called on Sierra Leoneans to ensure that the rights of children are protected also noting that the theme of the Foundation is also very timely as early marriage, teenage pregnancy, and domestic violence are some of the major abuses children in Sierra Leone are suffering from today.
He ended by calling on stakeholders, Ministries, local authorities to put hands on deck in order the promote children's issues.
John Dito Kamara, Karene District Chairman expressed thanks and appreciation to members of  the Foundation for their tremendous work they having been doing in supporting children in that part of the country.
He said as a Council they are committed to ensure that they support children stating how in that vein they have been implementing various projects like facilitating the construction of bore holes in primary schools, providing labs for disable children in schools within the Kamakwie municipality.
He called on parents to send their children to school as it is a law as according to the 2004 Education Act which states ''any parent who does not send his/her child to school is a crime and you are liable to a fine of Le500, 000 or three months in prison or if it pleases the Magistrate to apply both.''  He said Council will start to implement that rigorously
He ended by registering their commitment as a Council to the Foundation and pleaded to them to extend their support in other chiefdoms.
Abdul .A. Bah National President Sella Development for Education and Progress (SEDEP) disclosed that in as much as they have their right they must know that their right goes with responsibilities and they should not misuse their rights as children calling on them to ensure that they take this opportunity seriously and make good use of it in order to become great people in society.
He further called on parents to allow their children to join (SEDEP) as the organization will help mentor and empower them greatly and pledged his commitment on behalf of the organization to always give their support, service to the success of the Foundation.
Chief Executive Officer, Bolingo Children Foundation (BCF) disclosed that he is doing this as a way of giving back to society and committed himself to ensure that he helps deprived and vulnerable children.
He further disclosed his commitment to ensure that the Foundation will not look at children within the Sella limba chiefdom but also in other parts of the country. He called on parents to nurture their children and encourage them to take their studies serious revealing how the organization is self-sponsored because of that they are under taking fund raising activities in order to continue their support towards the welfare of the children.
He ended by calling on parents, stakeholders, local authorities to grab the opportunity in order for the children to become great people in society.
Mr. Danny Sebeh Dumbuya in his keynote address said that society is sick today and if attention is not drawn we cannot progress.
He further said the Foundation has the potential to transform that part of the country as the organization is working on three key areas that enhance the development of children which are education, livelihood activities and health.
He also thanked the Chief Executive Officer for the establishment of the Foundation as he said it has contributed towards the development of children in that part of the country.
He also highlighted the responsibility of parents towards their children whom he said they need to have time to monitor and supervise.
He concluded by calling on the local authorities in the chiefdom to ensure that they work with the Foundation for the betterment of their children.
The celebration was climaxed by an inter-primary school drama competition which was geared towards empowering them and broadening their understanding in the field of drama. Seven primary school participated and awards as well as prizes were distributed to the winners of the competition.