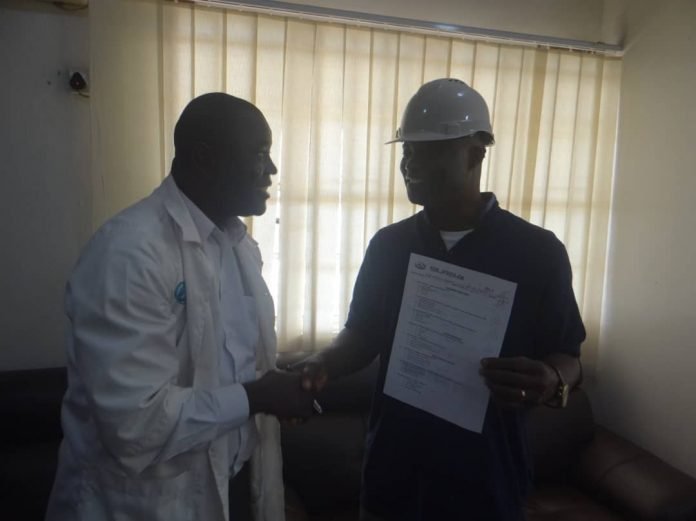 Minister of Lands, Housing and the Environment, Dr. Dennis Sandy, on Wednesday 5th June 2019, missed 2 marks and grabbed 15, as he underwent a driving test for the Quinquennial renewal of his driver's license.
The minister, arrived at the Headquarters of the Sierra Leone Road Safety Authority (SLRSA) on Kissy Road in the east of Freetown, and took the practical, theoretical and eyesight tests in the presence of the Executive Director, Mr David Panda Noah.
The Transport Manager, DC Kaitibi, Public Relations Manager, Abdul Karim Dumbuya and a host of other staff of the all-important government's institution were also present.
Lands Minister Sandy was able to answer 15 out the 17 questions, and it was also discovered that his eyesight is very good.
Dr. Sandy was not in high spirit, however, for missing 2 out of the 17 questions posed to him, but nonetheless, for scoring 15/17, the Executive Director and the entire management team of the SLRSA were pleased with the minister's performance, and therefore, called on other senior state functionaries to emulate Dr. Sandy's example.
Many Sierra Leoneans tag this latest development at the nation's road safety authority as exemplary reform put forth by the current Executive Director which others before him had failed to institute. It is said that people with firm focus and astute sense of responsibility match their words with actions to make institutions thrive, and this is what Mr. David Panda-Noah is hammering home.
It could be remembered that when he took over as Executive Director of the Sierra Leone Road Safety Authority (SLRSA) on 20th July 2018 or thereabout, Mr David Panda-Noah professed a strong determination and commitment to serving Mama Salone in the best interest of his Sierra Leonean counterparts.
To him, the only way Sierra Leone can be mapped on the steady path to development is sanitising the transport sector so that the precious lives of Sierra Leoneans, all of whom are vulnerable road users could be protected.
Mindful of the level of lawlessness and impunity exhibited on the road in an unimaginable manner that is detestable in any decent society, Mr Panda-Noah said the laws of the land safeguarding the welfare of Sierra Leoneans must not be left on the shelves to dust and rot, but be executed and enforced to actualise a better Sierra Leone.
Less than a year today, Sierra Leoneans are seeing Noah's exemplary leadership unfolding at the country's Road Safety Authority, matching his words with actions.
Not only that, Sierra Leoneans who spoke to this Writer say Mr Noah is one in a million who would abandon his air-conditioned executive office and prop into the streets alongside his juniors to enforce road safety rules and regulations.
Directing the affairs of SLRSA within the strict ambits of the law in a country where favouritism because class distinction is eminent could be a daunting task which many executive directors had failed to brace up, and this is what David Panda-Noah is now dealing with squarely.
In previous years, government functionaries in high quarters such as ministers, CEOs, managers and others, even individuals that are affluent could dash into SLRSA for vehicular and driving licenses and get one without any protocol or proper screening as mandated by law. Today, a senior minister of government cannot acquire a driving license without being put to test under the directorship of a young man.
Panda-Noah deserves unflinching support from the New Direction Government to enable him do more and redeem vulnerable citizens from road crashes which are anathema to nation's development, with latest statistics from the World Health Organization (WHO) suggesting that 1.35 million people die on the roads each year.
The new statistics also indicate that road traffic injuries are now the leading cause of death among young people, and what Sierra Leone needs to see is real high-level political will to take on the problem.