Sierra Leone winning actress, TV and Radio personality, Movie Director, Producer, Chief Executive Officer -Sierra Leoneans Lives Matter, a non-governmental organization that advocates for good governance, women and girls empowerment Henrietta Mbawah, who also doubles as Chief Executive Officer Manor River Entertainment Company recently bagged  the prestigious Sister's Choice Award 2019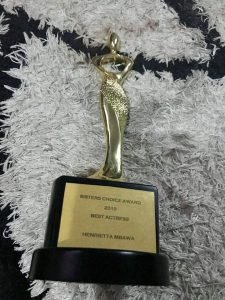 The Sister's Choice Award seeks to inspire and motivate women to work together and accomplish great things; therefore, celebrate those women who have excelled in their fields as they stand as mentors and coaches for the upcoming women leaders empowering the next generation of budding entrepreneurs
Speaking to this medium after receiving the Award, Mbawah, expressed delight underscoring how it is a sign of appreciation in relation to the various activities she has been undertaking geared towards empowering the lives of young people and her great roles in the movie industry
"I felt good to receive such an award because I worked for it," she proudly stated.
Mbawah dedicated her award to all those who supported her in diverse ways her work in.
This is not the first award Mbawah has received as she has participated in the biggest contest in the world, Miss Manor River Union Entertainment. She was also recognized as one of the 50 most influential youth in Sierra Leone and won 10 other awards as Best Actress, most creative youth in Sierra Leone and her record is still intact.
"I believe in giving back. This is how it was for me when I was growing up and I will continue to empower the lives of young people in Sierra Leone," she maintained
Her organization, Manor River International Entertainment Company  is very passionate about advocating for women who suffer from gender based violence in their schools, universities, and communities, and continues its drive of supporting the less privileged in Sierra Leone.
Mbawah promised to continue her charity work in and out of Sierra Leone so that she will continue to impact positively the lives of people.