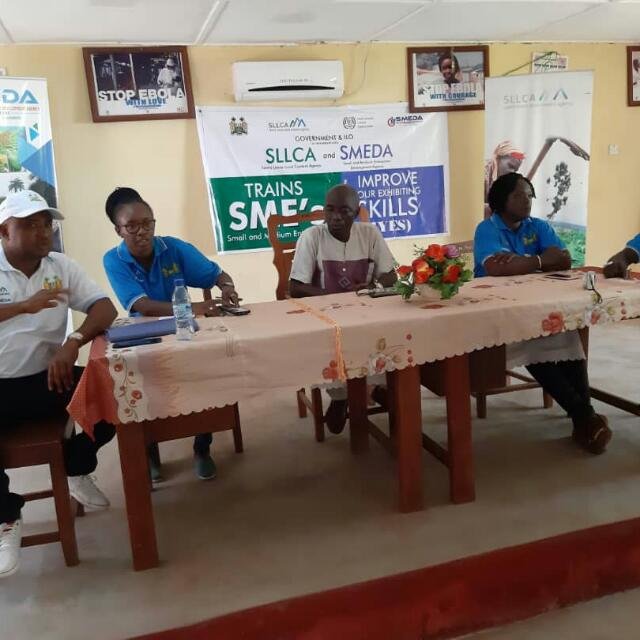 The Sierra Leone Local Content Agency (SLLCA) and the Small and Medium Enterprises Development Agency (SMEDA) in partnership with the International Labour Organization (ILO) recently held a two day training session in Kenema Town for participants operating local businesses in the Eastern region including Kailahun, Kenema and Kono districts on the theme: 'Improve Your Exhibiting Skills (IYES)'.
Giving an overview of the two agencies, Director General of SLLCA, Fodeba Daboh said that the two agencies were simultaneously established by Acts of Parliament in 2016 to create the enabling environment and provide the space for small and medium businesses to thrive.
He said that both the SLLCA and SMEDA Acts give the two agencies the mandate to collaborate in the implementation of their acts stressing that the Acts established several aspects including training, market linkages, job creation and access to finance.
According to him, the training would increase knowledge and enhance development of the participants as well as enable them to do their businesses effectively and efficiently.
Speaking on the outcome of the training he noted that this would create the platform for networks and market access for their products and services locally and internationally.
He added that the training would also provide detailed information- sharing between the two agencies, pinpointing their operations and operations of businesses.
Daphine Foday, Head of Media and Communications disclosed that the training was designed to develop more women businesses in order to boost their skills, partnership through strategic communication.
The training, he said, is in a pilot phase which will be implemented in the four regional headquarter towns of Bo, Makeni, Kenema and Port Loko.
In another engagement, Administrative Officer, Outreach and Public Education, Julius Kandeh Kanu, said the training was developed as part of ILO's strategy to enhance the contribution of women entrepreneurs in creating meaningful and sustainable business and employment opportunities in reducing poverty.
According to a survey conducted in January 2019  it was realized that SMEs across the board lacks the necessary business skills especially in the areas of record keeping, income and expenditure and business communication skills.