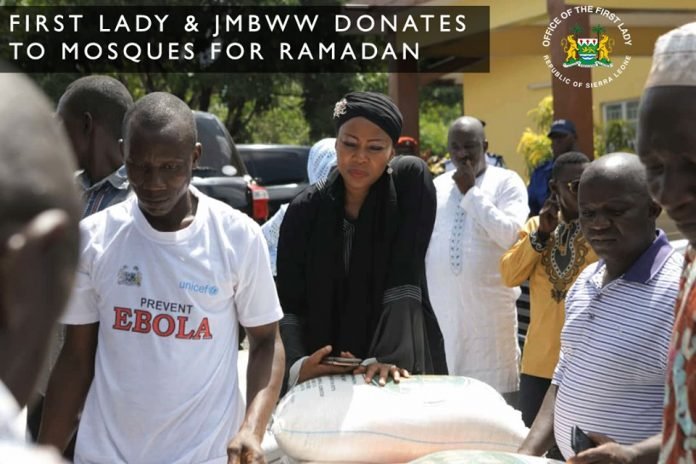 H.E. Fatima Maada Bio and JMB-WW (Julius Maada Bio Women's Wing), have so far donated to 5 mosques in Port Loko and Kambia districts as they continue to worship with Muslims in various mosques during this holy month of Ramadan.
At the Sus mosque in Kambia district, Imam Alhaji Bangura commended the First Lady for this great generosity to not only the mosque but the Muslim communities in that part of the country. He expressed his sincere thanks and appreciation to the current Government for the "free quality education" which is in progress, as this has aided many young people to start schooling again. He also appreciated the idea of the "Hands Off Our Girls" initiative which is geared towards eradicating sexual violence and harassment in the country.
The Imam who also doubles as a Principal in an elementary school testified that because of the free quality education and the hands off our girls initiative, his work is has been made simple.
First Lady Mrs. Fatima Maada Bio in her statements has stated that she is thankful to Allah, for giving her the opportunity to continue celebrating his name. "I am a proud Muslim woman who believes in the teaching of our Prophet Mohammad (SAW). There is nothing more fulfilling than giving Zakat to the needy as it is one of the pillars of Islam," she said while visiting a number of mosques to give Zakat in this Ramadan season.
The First Lady also asked all the  Head Imams of these various mosques to continue to pray for the country's development and for God not to accept anyone who is trying to destroy the plans of  President Julius Maada Bio. She also said that her movement to these mosques was not for politics but rather reaching out to the Muslim communities across the country. "This government is actually ready to redeem this country and everybody's participation is required, from all sides of the country" Fatima Bio said
It could be recalled that Madam Bio in conjunction with the Julius Maada Bio Women's Wing (JMB-WW) has over the past few days been going around donating food and other items to various mosques around the city and in provincial areas.
This is in observance of the season of Ramadan. Madam Fatima Maada Bio and the Julius Maada Bio Women's Wing (JMB-WW) are on this exercise to demonstrate their generosity to Muslims in different parts of the country.
Fatima Maada Bio and JMB-WW also joined worshippers at the Hill Station Mosque, on Wednesday 15th May, 2019. They also gave Zakat in the spirit of Ramadan and also joined worshippers at the Majid Rahman Mosque, Goderich in Freetown, on the same day. They also gave Zakat in the spirit of Ramadan.
The First Lady and JMB-WW started the tradition of giving Zakat more than 5 years ago in the name of Allah and they continue to donate and ask for prayers for President Bio and the people of Sierra Leone.
Muslims in Sewafe, Kamadu, Sulkudu, Peiyema, Tombodu, Koiquema, and Koidu Town, have all benefited from the generosity of Fatima Bio and the JMB Women's Wing.
A total of two hundred bags of rice, sugar, flower, salt, oil, tomatoes, kola and money have so far been distributed.
She adds that: "I am also very happy to share with my people from Kono where I come from, and to seek their blessings for my family, the government and the people of this nation," she added.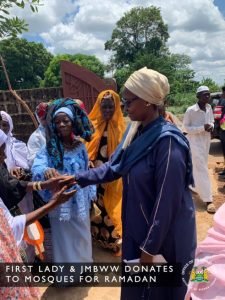 As all of this is going on, Fatima Bio remains committed to offering prayers for Allah to uproot anyone bent on destroying the good ideals of the New Direction government; something which observers say is very good especially during this Ramadan season.
Everywhere she goes she offers prayers calling on Allah to weed out and disgrace all those who are clandestinely bent on undermining the Presidency and especially her husband, His Excellency Julius Maada Bio's efforts in enhancing overall national development and by extension derailing the New Direction manifesto.
She also entreats Allah to liberate the nation from the clutches of those whom she characterised as evil and demonic individuals.
However, one school of thought has it that Fatima Bio should not be 'offering prayers for evil to befall anyone during this holy month of Ramadan because it is un-Islamic and the Quran is against it.'