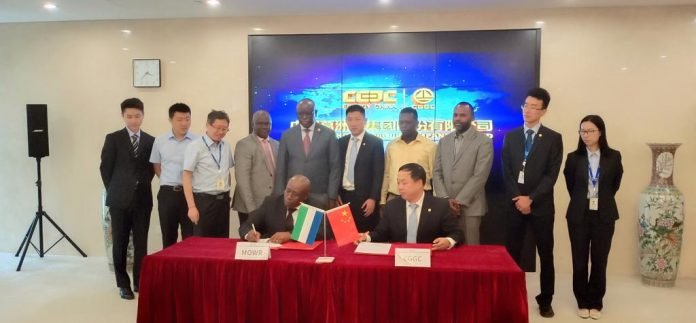 To address the longstanding water crisis that affects the metropolis year in and out the Minister of Water Resources, Dr Jonathan Bonopha Tengbe, in line with the Government's priority to increase access to water supply have signed a Memorandum of Understanding with the China Gezhouba Group Company Limited (CGGC) to develop the Orugu and Congo Dams and Water Treatment Plants projects.
The signing ceremony took place in Beijing, China, on June 4, 2019, in the presence of the Ambassador of Sierra Leone to China, HE Ernest Ndomahina, and the Managing Director of Guma Valley Water Company (GVWC), Maada S. Kpenge.
Once developed, the Orugu Dam and Treatment Plant, to be situated in Mortem village on the Regent to Grafton highway, will enable GVWC deliver a minimum of 70 million litres per day (MLD) of water supply, enough to serve over 600,000 people, to communities in the East of Freetown: Grafton, Jui, Waterloo, Allen Town, Calaba Town, Wellington and Kissy. The Orugu Water Supply System will support the Rokel River Water Supply, for which the feasibility study is on-going.
Similarly, the Congo Dam and Treatment Plant, to be located in upper reaches of Regent, will deliver 30MLD of water supply to the mountain communities of Regent, Leicester, Gloucester, Kortright/Fourah Bay College, Charlotte, Bathurst, IMATT and Hill Station.
This milestone, after thorough due diligence conducted on CGGC in Ghana by the Ministry of Water Resources, will enable the GoSL, CGGC and GVWC to start evaluating the technical aspects and environmental impacts of the projects, and to develop innovative financing solutions for the projects that will not pose a great debt burden to the Government of Sierra Leone.
CGGC is a Chinese construction and engineering company that has delivered infrastructure projects throughout Africa and the developing world. In 2015, CGGC successful commissioned the Kpong Water Supply Expansion Project in Ghana, a $273 million water treatment facility delivering 250 MLD of water supply to Accra.