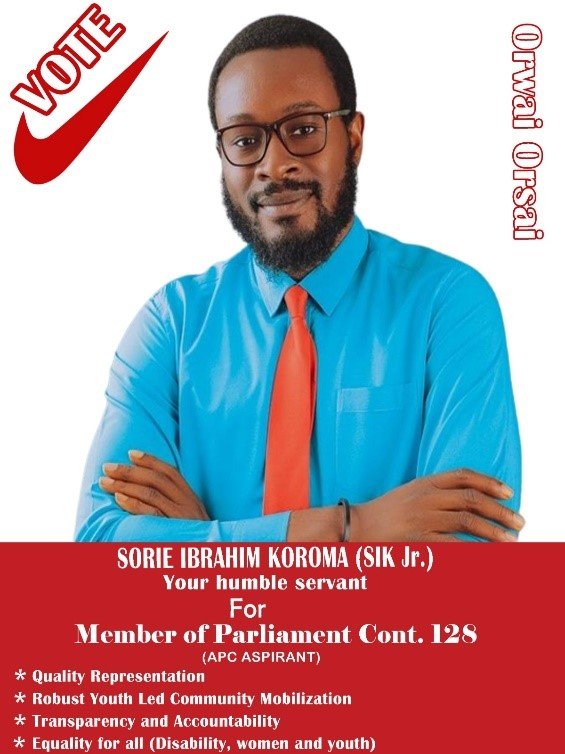 By Foday Moriba Conteh
As the country is gearing up for an election year, 2023, when Presidential, Parliamentary, and Municipal Elections are to be held, various individuals have manifested interest to vie for certain positions under political parties.
Among such individuals that have so far surfaced is a young unassuming, attractive, ambitious, and compassionate personality in the person of Sorie Ibrahim Koroma. He has made his intention known to contest for the Parliamentary Seat for Constituency 128, West West District.
As a fully paid-up member of the current opposition All People's Congress (APC) Party, under which he intends to contest, he has been very active and is very well known by the party's hierarchy for his instrumental roles he had played, at various times, in advancing the interests of the party with some already expressing the view that there is no iota of doubt that the big vons of the party will not hesitate or stop at nothing to endorse his election bid.
Speaking to this medium, the aspirant, Sorie Ibrahim Koroma said that as a Parliamentary aspirant for Constituency 128 West District, he is committed to bringing about positive change and delivering quality representation for his district.
He said that his campaign is built on four key pillars which include Robust Youth Led Community Mobilization, Transparency and Accountability, and Equality for all including disability, women, and youth.
"With me, Sorie Ibrahim Koroma Jr, as your representative, you can expect a fresh, dynamic approach to community mobilization. I believe that the youth are the driving force behind progress, and I am dedicated to empowering and engaging young people in decision-making processes that affect our constituency. I will work tirelessly to create opportunities for the youth to participate in local governance, ensuring their voices are heard and their needs are addressed," he revealed.
Sorie Ibrahim Koroma pointed out that transparency and accountability are fundamental to good governance and that as a representative, he will be transparent in his actions and decisions, and he will actively engage with the community to gather input and feedback, adding that he will work to ensure that the resources allocated to his Constituency are used judiciously, and he will be accessible and responsive to the concerns and needs of his constituents.
"I am also deeply committed to promoting equality for all members of our community. I will advocate for the rights and well-being of persons with disabilities, women, and youth, and ensure that their voices are heard in the decision-making process. I will work towards creating an inclusive and equitable constituency where everyone has equal opportunities to thrive and contribute to our community's growth and development," he maintained.
The Parliamentary Aspirant concluded by assuring all to have trust in his dedication, integrity, and passion for service and that he will be a strong advocate for his constituency, working tirelessly to bring about positive change and deliver quality representation.
He pointed out that together, they can build a better future for Constituency 128 and the West District as a whole.
Sorie Ibrahim Koroma called on his constituency members who will be participating at the internal elections for the award of symbols to Members of Parliament to vote for him as he believes he is the fittest candidate for the position as a member of Parliament for Constituency 128 West West District.