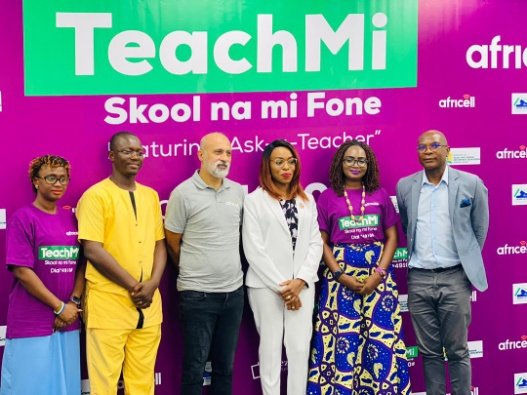 By Foday Moriba Conteh
With a view to complement the efforts of the Government headed by President Julius Maada Bio in the implementation of its flagship programme which is the  Free and Quality Education , one of the country's vibrant telecommunications companies, Africell-SL, has on 29th  April 2022 launched  a service known as "Teach Mi" at its headquarters on Wilberforce in Freetown.
During the launch, it was spelt out that the "Teach Mi" Service provides easy access to lesson notes on all subject areas, quiz questions and answers for JSS1 to SSS3 school-going pupils without using the internet.
Madam Josephine Saidu, who happens to be the Chief Executive Officer of "Teach for Salone", expressed profound delight for the launch of the mobile platform for school going pupils which she said, will greatly aid education and technology in the country.
She revealed how Teach for Salone has a vision in the nearest future to examine and help school going pupils to achieve their full potentials irrespective of their geographical location, socio-economic status and gender.
Madam Josephine added that they are committed to complement the efforts made by the Government by continuing to bring innovative solutions to the educational sector of the country.
She also disclosed that her organization had trained over two hundred exceptional graduates not only in hard to reach primary schools in eighty-eight communities but also across nine districts in the country, adding that this year they will add another two hundred to continue making the necessary impact in different schools.
The Representing the  Country Representative of UNICEF to Sierra Leone, Anne Aster Ghebreab, praised Africell for its commitment in supporting the advancement of education in Sierra Leone through technology.
She disclosed that the partnership between UNICEF and Africell will ensure the effective use of data for decision making on education related issues adding that Africell has contributed by giving out a toll-free line which is providing an open channel for all complaints and concerns in relation to educational issues in the country.
Anne furthered that they have the strong conviction that the power of technology will eradicate educational poverty, noting that in 2021, in collaboration with the Ministry of Basic Senior and Secondary Education (MBSSE) and the Teaching Service Commission, UNICEF supported the training of six thousand nine hundred teachers across the country to complement the Government's Free and Quality Education programme.
She appealed to Africell and other businesses to continue their support for the  education of children in Sierra Leone, noting that UNICEF is committed to support the Government on educational programmes.
UNDP Country Representative to Sierra Leone, Sayed Sada thanked Africell for their support toward education, stating that education is the backbone for sustainable development.
He said those who invested in education around the world never regretted it pointing out that he is proud that UNDP is part of the project and will continue to support education for a sustainable development in Sierra Leone.
Chief Corporate Affairs Officer of Africell, Joe Abass Bangura disclosed that 'Teach Mi' offers lessons; quizzes and live teacher interactions to help pupils participate through an SMS led system.
He said that the Teach Mi Service is affordable and accessible to all with an easy form of subscription to *4910#.
"You don't need to have internet to go through this. Learners will know their performance and interact with teachers at any time and this programme is approved by the MBSSE," he said.
Joe continued that they will create more contents for pupils to benefit from the learning platform and ended up thanking Eneza, a Kenya based IT Company in Sierra Leone and Teach for Salone and other education partners for working with them to ensure that the "Teach Mi" programme becomes a reality with the slogan is "Skool na mi Fone."