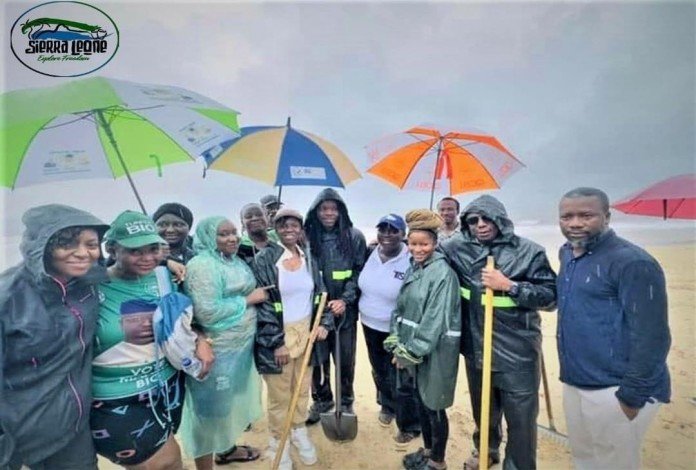 By Amin Kef (Ranger)
The Ministry of Tourism and Cultural Affairs in collaboration with the National Tourist Board, on the 12th August, 2023 received mammoth support from hundreds of Sierra Leonean youths, from Universities, Colleges, Government institutions, Private Organizations who converged at the Tourist Board compound  to give their support towards a sustainable beach cleaning exercise, facilitated by the Ministry, in order to achieve a free waste environment. Precisely, the team converged to undertake the cleaning of the Lumley-Aberdeen beach.
Also present were the Deputy Minister of Tourism, Dr. Kadiatu G.A Kamara, Hon. Mohamed Sheriff Raman Koker, Chief Minister- Dr. David M. Sengeh, Umaru Napoleon Koroma Esq, Francis Mustapha Kai-Kai, Mohamed Orman Bangura, the Deputy GM- NTB, Jeffrey Moijue.
With the 500 man power, groups were created into categories of 10 each having 50 active youths in these groups as designed by the Deputy Minister of Tourism, Dr. Kadiatu G.A Kamara who in her introduction, reiterated that she has one focus which is to support the Hon. Minister of Tourism, Madam Tunis to continue the transformation work within the tourism sector.
The Deputy General Manager- National Tourist Board, Jeffrey Moijue was in charge of group categorisation, tools and logistics mobilization during the cleaning, ensuring every group received the required tools for the said job.
In her address to the participants that had assembled, the Minister of Tourism and Cultural Affairs, Nabeela Tunis, emphasized that Tourism is a national inclusive sector with a focus to Environmental Preservation.
According to her, the primary goal of a beach cleaning exercise is to preserve and protect the environment adding that by removing litter and debris from the beach, the exercise helps to maintain the natural beauty of the beach and its surrounding ecosystem.
She further pointed out that it reduces pollution, prevents harm to marine life, and protects habitats for various species and in those directions she called on every one to be committed to maintaining sanitary and a safe beach community free of pollution.
The Minister also underscored that beach cleaning exercises often serve as educational initiatives, raising awareness about the importance of environmental conservation and the impact of litter on marine ecosystems.
"Such exercises are meant to engage volunteers, schools and community groups, fostering a sense of responsibility and encouraging proactive action towards environmental stewardship," she also intimated.
The Director of Tourism, Mohamed Jalloh, on his part, encouraged the continuous move of Positive Community Engagement maintaining that Beach cleaning exercises provide opportunities for community members to come together and work towards a common cause.
"It encourages community engagement, cooperation and a sense of pride in maintaining a clean and healthy environment," he said adding how such activities can strengthen community bonds and as well promotes a sense of unity among participants as they are doing now.
The Chairman of National Tourist Board, Alieu Tamba Kokobaye also strongly recommended paying keen attention on Data Collection saying beach cleaning exercises involve data collection, such as recording the types and quantities of litter collected.
He expressed the view that the data can be valuable for research, analysis and the development of strategies to address the root causes of beach pollution adding that it can inform policy-making and help organizations and Governments implement targeted measures to reduce litter and protect coastal areas.
Fatmata Carew, the General Manager of National Tourist Board, pinpointed that the overall beach cleaning exercise has the tendency to contribute to the preservation of the environment, promote public health and safety, as well enhance the aesthetic appeal of the beach, provide educational opportunities, foster community engagement and generate valuable data for future conservation efforts.
In connection to the cleaning of the beaches, the Tourism Minister had one on one meeting with owners of hotels and restaurants during which she called their attention to give consideration to be cleaning their beach fronts and back respectively.
She endorsed a tourism technical team to start implementing robust actions on businesses failing to clean and maintain healthy stands, to face a heavier penalty for defiance to beach protocols.
After the cleaning exercise the Hon. Minister and colleagues launched the "Innovation Challenge" which is an initiative in which young innovators are encouraged to design solutions for smart clearing and disposal of wastes on the shores, especially Lumley beach being one of the major tourist attractions that has been challenged with lots of rubbish during the rains.
The whole exercise was climaxed with the proffering of recommendations for maintaining a cleaner beach which will contribute to the preservation of its beauty and environmental health. The following actions were discussed after the cleaning exercise:
To always clean up and dispose trash properly by bringing a bag or container to collect  waste, including food wrappers, bottles, and other items, and make sure to use designated trash bins or take  trash away when leaving.
Reduction of single-use plastics by minimizing use of water bottles, straws, plastic bags and opt for reusable alternatives like stainless steel water bottles, bamboo or metal straws and eco-friendly bags.
To participate in beach cleanups by joining or organizing beach cleanup events in  areas with the idea that such initiatives bring people together to collect and properly dispose of litter on the beach, making a significant impact on its cleanliness.
Respecting wildlife and ecosystems by being mindful of the wildlife and ecosystems present on the beach. Avoid disturbing or feeding animals, and observe them from a distance and not to walk on or damage sand dunes or coral reefs, as they are fragile and essential for beach ecosystems.
Educate others through knowledge sharing about the importance of a clean beach and encourage friends, family members and fellow beachgoers to practice responsible and sustainable behaviour when visiting the beach.
Use reef-safe sunscreen: Traditional sunscreens often contain harmful chemicals that can damage coral reefs and marine life.
To follow local rules and regulations by paying attention to any rules or guidelines posted at the beach and follow them accordingly as these rules are in place to protect the environment and ensure safety at all times.
The next cleaning exercise will be published sooner.